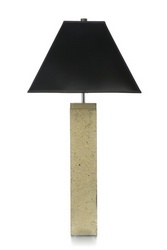 " Concrete gets harder and stronger all of its life. I want my work to be a symbol of strength and longevity to be handed down from generation to generation. "
Jasper, IN (PRWEB) June 19, 2010
Dwell on Design, the West Coast's largest design event will welcome 20,000 attendees from June 25th-27th at the LA Convention Center. The show features exhibitions from large internationally recognized companies to small artisan crafters. All exhibitors have one thing in common- a passion for modern sustainable design.
Interior Designers, Architects and consumers will have the chance to get up close and personal with Rough Edges Design artisan, Mona Hoffman's, unique use of concrete in a collection of eco-friendly table lamps.
Today, as all eyes are fixated on the BP oil spill, the impact of this disaster in the Gulf emphasizes the importance of sustainable design to a greater degree than ever.
Designing with eco-friendly materials and consuming less is a mantra of greater magnitude in our endeavor to free ourselves from our dependence on oil.
A stark antithesis to our 'throw away' society, Hoffman's work is crafted from sustainable materials and built to last. "Concrete gets harder and stronger all of its life. I want my work to be a symbol of strength and longevity to be handed down from generation to generation."
Strong, sturdy and stable, these concrete table lamps are at home in environments ranging from modern and contemporary to craftsman and rustic. Designers, Architects and homeowners alike appreciate the organic yet modern feel of these one-of-a-kind functional works of art.
The inspiration for Hoffman's work comes from the old world charm of European villages and contemporary architecture. The result is a clean minimalist style mixed
with the rusticity of materials in their raw and imperfect state.
Additional information about Rough Edges Design and artisan, Mona Hoffman's handcrafted concrete table lamps can be found by contacting her directly or online at http://www.roughedgesdesign.com.
Mona Hoffman worked in the office furniture industry for 16 years with roles in marketing, product design and development, brand management and sales management before becoming VP and General Manager of National Office Furniture, a division of Kimball International, a position she held for 5 years before deciding to pursue her creative path. Her studio, Rough Edges Design, LLC is located at her home in Jasper, IN.
Contact:
Mona Hoffman
Rough Edges Design, LLC
812-630-0787
# # #