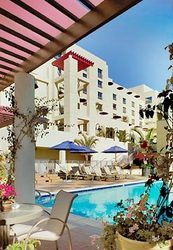 Santa Monica, CA (PRWEB) June 21, 2010
Earn $50 while enjoying a fun summer weekend getaway with great Santa Monica hotel deals that offer travelers cash back when they stay and pay with their Visa card. The Le Merigot, A JW Marriott Beach Hotel & Spa, is making it easy for travelers to enjoy a weekend of fun and excitement in Santa Monica with its "Here's $50 for a Great Weekend" deal. Located just minutes from world-class shopping, dining and entertainment, this Santa Monica hotel near Venice Beach is perfect for a family weekend or romantic getaway.
The Le Merigot, with its European style and classic Southern California charm, is one of the finest luxury hotels in Santa Monica and is offering weekend guests a $25 Visa gift card per room per night for guests who stay and pay with their Visa card now through September 6, 2010*. Guests will enjoy deluxe accommodations and easy access to all the exciting Santa Monica attractions from this hotel near Santa Monica Pier.
And, the attractions are plentiful in Santa Monica with an array of family beach activities, snorkeling, scuba diving and jet-skiing available nearby. The Third Street Promenade is another popular interest and Santa Monica Pier offers a variety of entertainment, shopping and dining, an interactive aquarium and thrill rides at its popular Pacific Park, which is also home to a nostalgic 1922 carousel. Of course the coastal waters of nearby Venice Beach are also popular for activities such as surfing and beach volleyball.
Simply looking for rest and relaxation? This Santa Monica Beach hotel provides guests with the perfect reprieve from hectic daily schedules. With its informal, yet elegant appeal, relaxation can be found among the private pool and ultimate on-site Spa Le Merigot. Guests will also be pleased to find exquisite on-site dining at Cezanne, a hidden gem among restaurants in Santa Monica, serving up award winning cuisine in a comfortably elegant atmosphere.
*Guests will receive a maximum of two $25 Visa gift card vouchers per room and must book their weekend stay at least 14 days in advance. Online reservations may be made at Marriott.com by using promotional code V12 or by calling 1-877-Marriott for reservations or information.
About Le Merigot, A JW Marriott Beach Hotel & Spa, Santa Monica
The Le Merigot offers unsurpassed service and carefully appointed amenities to provide guests with a perfect Santa Monica experience whether traveling for business or pleasure. With ample meeting and event space, this hotel can easily facilitate business conferences or social gatherings. Wired and wireless high-speed Internet access is available and guest rooms feature marble-tiled baths and private balconies and patios.
About JW Marriott
JW Marriott is part of Marriott International's luxury portfolio and consists of beautiful properties in gateway cities and distinctive resort locations around the world. These elegant hotels cater to today's sophisticated, self-assured travelers, offering them the quiet luxury they seek in a warmly authentic, relaxed atmosphere lacking in pretense. JW Marriott properties artfully provide highly crafted, anticipatory experiences that are reflective of their locale so that their guests have the time to focus on what is most important to them. Currently, there are 45 JW Marriott hotels in 19 countries; by 2013 the portfolio will encompass 73 properties in 28 countries.
# # #