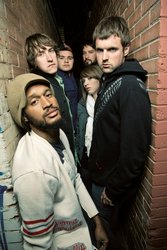 This really is Denver's best summer event, and I can't say that there was a time when there wasn't a show going on that I didn't want to see
Denver, CO (PRWEB) June 18, 2010
The Underground Music Showcase – now known simply as The UMS – is excited to announce the Colorado-native band Flobots as the headliner for this year's festival, which marks 10 years of bringing the best local and national indie artists to Denver stages. And to help celebrate the milestone, the Universal Republic recording artists will take the stage on Saturday night to perform tracks from their latest release, Survival Story, as well as fan favorites from their first mainstream release, Fight with Tools.
Also announced today to round out the already robust lineup is Hoots & Hellmouth, a Machine Gun Blues' reunion show, The Centennial's (formerly Meese) EP Release show, the kick off to Lilly Scott from American Idol's national tour, and entertainment by Lucha Libre (Mexican Wrestling). This year's lineup includes more than 300 of the best bands, singer-songwriters, and comedians from all over the world. For the complete list of artists, visit the Artist Page at the http://www.theums.com.
The UMS, which has grown to be the largest indie music festival in the Western United States in just 10 short years, takes over 10 blocks of Denver's South Broadway from July 22nd thru July 25th, featuring restaurants, hip local boutiques, and some of the best live music venues in the city. Last year's event left a mark on the music community in Denver, including Tiffiny Holiday of AmericanIndie.net (now What The Ruckus) when she reviewed the festival saying, "this really is Denver's best summer event, and I can't say that there was a time when there wasn't a show going on that I didn't want to see…I will be clearing my schedule for next year's showcase".
The four day event will feature food, beverage and retail vendors on-site, offering product samplings, giveaways and other promotions all weekend long. A four-day wristband will only cost you $25, if you buy now – price increases to $30 on July 1st and is $40 day-of – and VIP Badges, which are almost sold out, offer access to three late night parties with hosted food and bar, the ability to skip lines at venues, and other VIP amenities, run you only $60 through June 30th. Tickets and badges are available for purchase at http://www.theums.com.
Official sponsors include Heineken, The Denver Post, Floyd's 99 Barbershops, Verizon Wireless, Groove Automotive, Peach Street Distillers (Goat Vodka and Jackelope Gin), Montanya Distillers, Ohio Center for Broadcasting Colorado Campus, Car Toys, and Red Bull. A portion of the proceeds from this year's event will go to our charitable partner Bands for Lands, visit http://www.BandsForLands.org for more information.
# # #