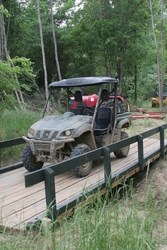 An All Terrain Bridge is durable, convenient, competitively priced and immediately useful.
Madison, MS (PRWEB) June 18, 2010
All Terrain Bridge is improving access to hard-to-reach sections for landowners, hunting clubs and recreational properties, through the manufacturing and installation of custom hardwood composite bridges. All Terrain Bridge already has installed several bridges that fit landowner's needs, even though the company only began operating in January.
"A product that's as capable as the All Terrain Bridge can be launched and be successful in any market," says Kyle Spring, sales and marketing manager for All Terrain Bridge in Madison. "An All Terrain Bridge is durable, convenient, competitively priced and immediately useful."
"Just minutes after installing one All Terrain Bridge, the landowner said he couldn't wait. He jumped on his tractor and starting mowing his property right there," says Spring, a 1987 graduate of Mississippi State University. "He hadn't been able to get to that property since erosion and heavy rains washed out the dirt road he had been using."
Each All Terrain Bridge is constructed with hardwood laminated beams, EmtekTM composite technology, and treated with micronized copper azole (MCA). Standard bridge sizes are easy to create. Commonly, these bridges can be 6- and 8-feet wide, and common lengths are up to 32 feet. Weight limits range from 4,000 pounds to 12,000 pounds, which accounts for a wide range of equipment.
Some landowners have contacted All Terrain Bridge after their roads were washed out or just wanting access to property previously not accessible. "If you want to feed wildlife, if you want to plant food plots, if you want to just ride around all your property, All Terrain Bridge can help you," says Spring.
"I have spoken with several real estate professionals, who deal mainly in land sales, and they all have said, whether it's a ditch, creek, or washout, it's an issue. Our product would be able to take that issue out of the equation."
All Terrain Bridge has a time-tested method to manufacture a bridge that can be installed in just a few hours. All Terrain Bridge is a subsidiary of New South Equipment Mats, a long-time expert in helping companies get access to land for major construction projects, even in hard-to-reach or environmentally sensitive areas. The engineering and equipment used for major projects has now been made available to landowners, through the creation of All Terrain Bridge.
Seeking to meet each customer's needs, the All Terrain Bridge can be purchased three ways. First, the bridge can be designed and delivered as a kit for the landowner to assemble and install. Second, it can be delivered fully assembled for the landowner to install, or third, it can be delivered and installed by All Terrain Bridge.
All Terrain Bridge is currently marketing in Texas, Kentucky and Mississippi through popular outdoor trade shows, including Ducks Unlimited, Quality Deer Management and the Mississippi Wildlife Extravaganza. The company can be contacted through a form on the website http://www.AllTerrainBridge.com, or by calling 1-877-448-4282.
###