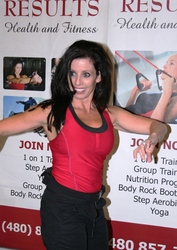 "The song is playful, positive and is universally appealing. The dance is energetic yet simple so everyone can participate." Jacobs says. "The enthusiasm generated by our community is ideal to help ignite the 1GOAL: Education for All."
Chandler, AZ (PRWEB) June 18, 2010
Results Health and Fitness Center invites all Zumba and exercise enthusiasts, children, teens and adults to put on their dancing shoes and join us as we take Shakira's challenge to dance the World Cup's "Waka Waka" song in support of 1GOAL, a global education campaign. The event will take place on Saturday June, 26, 2010 at 2:30 pm at San Tan Junior High School. Watch Results Health and Fitness staff prepare and practice choreography of the "Waka Waka".
Grammy award winning musical artist and 1GOAL Ambassador Shakira last month issued a YouTube challenge to 1song, 1 dance, 1GOAL advocates and World Cup athletes and fans. "Can you do the Waka Waka?" She requested everyone to record their dance and post it as the sign of support to help all children attend school and get the education they deserve.
"Who do I see as the team reigning victorious of the World Cup?" Tammi Jacobs, Executive Director of Results Health and Fitness responds to our question, "The children will be the winners of the World Cup. You see the World Cup has astonishing power of both unparalleled exhilaration and the power to unite. We must use this moment to raise our voices for 1GOAL: to ensure all children have access to primary education."
1GOAL is a global campaign that seeks to rally 2010 FIFA World Cup athletes and fans worldwide to ensure 72 million out of school children are given the right to education.
1GOAL Celebration in Chandler, Arizona sponsored by Results Health and Fitness
Arizonans for 1GOAL will meet at San Tan Jr. High at 2:00 pm Sat., June 26, 2010 to practice and rehearse the "Waka Waka" choreography and the actual recording of the dance will be at 2:30 pm.
"The song is playful and the lyrics are positive and appeal to a universal audience. The choreography is energetic yet simple so everyone can participate." Jacobs assures. "The response and enthusiasm generated by our Arizona Community is ideal to help ignite the 1GOAL: Education for All."
# # #