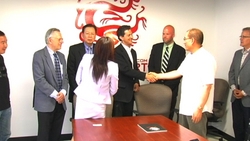 ChinaMart has not only become a dominant non-government entity in supporting Sino-US trade and investment, but also is the only true commercial platform to specialize in opening the US Market for Chinese Manufacturers.
Los Angeles (PRWEB) June 21, 2010
ChinaMart(TM) Los Angeles (CMLA - http://www.chinamartusa.com ) hosted WenZhou Delegation of 50 companies to its Los Angeles International Airport Conference Center. Stephen Perl, CEO of ChinaMart Los Angeles met with Wenzhou Delegation leaders sent by Wenzhou Government to setup the first WenZhou Brand Name Center in the US. After many months of high level meetings in China and the US, the Partnership between CMLA and the Wenzhou Brand Name Center was formed. ChinaMart Los Angeles will be responsible for setting up the entry of all the WenZhou Branded companies into Los Angeles/ US Market. ChinaMart's seasoned management and marketing staff will execute this operation as it has done with many other Chinese manufacturers already showcasing and operating from the China Mart facility at the Los Angeles International Airport.
"China Mart Los Angeles is now in advanced meeting with many of China's top Cities to support their best manufacturers in opening branches directly in the U.S. Market," states Stephen Perl CEO of China Mart Los Angeles. "Wenzhou is one of China top manufacturing regions in China and is eager to expand its presence directly into the US Market and we look forward to having ChinaMart's assistance in accomplishing this goal," states Mr. Bao, WenZhou Delegation leader. In addition, 1st PMF Bancorp (http://www.pmfbancorp.com), a key partner of the ChnaMart, sponsored the ChinaMart meeting with WenZhou and presented its specialized financial products for Chinese that assist in supporting the WenZhou companies that move to the US. ChinaMart and its partners have created the only "One-Stop Solution" specially designed for Chinese manufacturers to directly setup, grow, and open the US market.
About China-Mart Los Angeles:
ChinaMart Los Angeles is an international business platform with a +300,000 sq ft facility at Los Angeles International Airport that specializes in providing Chinese companies with a "One Stop" solution to establish their presence and open the U.S. Market directly. ChinaMart not only provides a physical location for Offices and Showrooms in Los Angeles Headquarters, ChinaMart also provides a full set of business services through an experienced team of professionals to assist Chinese companies in opening their U.S. Sales. ChinaMart promotes its clients' sales through many channels: by assisting in selling directly to large retailers, promoting to 1000s of already established wholesale / distributor partners, tradeshow promotions throughout the year, and by bringing buyers to its facility. ChinaMart provides business services in the area of Capital Markets Listing Services, Legal/Immigration support, financing for product/trade, housing and schooling support for the its clients' children, and more.
For U.S. companies, ChinaMart provides U.S. companies with support for their needs in doing business with China as well. China Mart has a program that provides support to U.S. companies that are seeking direct sourcing as well as assistance in opening export channels to the Chinese market. China Mart is well established to support such activities due to its relationships with the Canton Fair, YiWu Mart and other large business trade fairs. China Mart's headquarters in China is based in Shenzhen's largest B-to-B Mart which houses 1000s of general merchandise manufacturers. With China Mart's US and China teams as well as its infrastructure its built over the years in China and the US, its a "One Stop Shop" for both US and Chinese companies seeking to sell and/or source in either market (for more info visit: http://www.ChinaMartUSA.com).
# # #