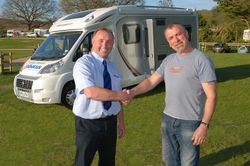 Our longer term aim is to create an itinerary led series of mini breaks whereby some or all the site prices are included in the rental prices we offer
(PRWeb UK) June 21, 2010
The Dorset based Abacus Motorhome Hire Centre is creating weekend package for customers with the support of motorhome friendly campsites in the South West of England. The three day weekend hire will offer those trying a motorhome holiday for the first time, the opportunity to have a free nights stay within the hire price. The first site to join the scheme is the Red Shoot Camping Park in the New Forest where Director Nick Oldfield welcomed the opportunity to support the scheme during off peak months.
"We are delighted to encourage more people to sample the pleasures of motorhome holidays in the UK and when better to do so than when the New Forest is still relatively quite before the summer season," said Nick Oldfield.
Abacus Managing Director Dave Wolfenden, who launched the successful motorhome hire business just 4 years ago, said that he was pleased with the response from their initial approach to campsites.
"There are a growing number who will work with us to offer preferred status to our hirers," said Dave Wolfenden. Our longer term aim is to create an itinerary led series of mini breaks whereby some or all the site prices are included in the rental prices we offer."
The company has recently launched a new website http://www.abacusmotorhomehire.co.uk that will detail the full range of services offered following a £100,000 investment to expand the dedicated motorhome centre.
# # #