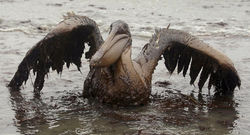 Oil remains primary product to build windmills.
(PRWEB) June 20, 2010
BP's oil spill in the Gulf of Mexico should encourage the industry to switch to alternatives, but in spite of this wind turbines are still being developed using oil derivatives. And yet there are companies that are already developing new technologies.
Paul Schietekat, CEO of NUNNO, Ltd.: "Our company is currently developing wind turbines that consist out of natural and recyclable materials such as aluminium and stainless steel. We are also working on a concept for which we use bio-resin. This resin is made of sugar, sunflower seeds, soy and rapeseed. The results that we have obtained with these resins are most satisfying and we hope to bring about a huge turnaround within the industry."
Sustainable wind turbines
For its research and development of wind turbines the company is collaborating with other companies in the USA and China.
Schietekat: "We were forced to do this because in Europe we're not in any way entitled to innovation funds. The innovation funds or Governmental grants are used only for up scaling existing technologies, but I don't think that this is innovation in the true sense of the word. Our turbines are smaller than the well known types and have more capacity."
NUNNO hopes to present its first wind turbines made of natural materials by the end of 2011. The projects in the company's portfolio are mainly focused on Balkan countries. Depending on the amount of investors, a number of projects may be added for Western Europe.
Paul Schietekat also states that it is op to the political world to change the guidelines of wind energy farms, if we want to go for real green energy. All attempts made today to produce wind energy, has everything to do with the oil industry. Anyone who can understand this contradiction, will understand the sense of urgency related to the problem.
###