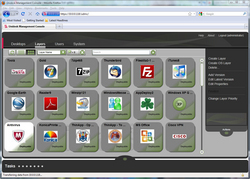 "We look forward to collaborating with Unidesk to enhance the virtual desktop experience for VMware View and VMware vSphere™ customers." Scott Davis, chief technology officer, desktop virtualization, VMware
Marlborough, Mass. (PRWEB) June 21, 2010
Unidesk Corporation today announced the general availability of Unidesk® 1.0, the management platform that customers are quickly embracing to ensure desktop virtualization success (see today's related press release "Virtual Desktop Management Accelerates as Unidesk Signs Customers, Channel Partners"). Unidesk leverages VMware vSphere™ and extends virtual desktop solutions such as VMware View™ and Citrix® XenDesktop® implementations with 100 percent personalization for end users, together with single image management and storage savings for IT organizations.
Tim Pletcher, Director of IT at The Herbert H. and Grace A. Dow College of Health Professions at Central Michigan University, a Unidesk customer, said, "We're implementing Unidesk with VMware View™ and VMware vSphere™ because it helps us achieve our strategic objectives. Our knowledge workers increasingly require highly customized desktops; Unidesk helps us meet this requirement with limited staff. Unidesk also eliminates a lot of patching, provisioning, and repair time that can be better spent on higher value services."
Pletcher said desktop virtualization is a strategic initiative to centralize desktop management, strengthen security, comply with HIPAA, reduce their carbon footprint, and better position for the future, like when the CMU College of Medicine opens in 2012. Added Pletcher, "The healthcare and research infrastructure of the future demands access to resources anytime and anyplace; persistent virtual desktops play a key role in maximizing faculty, staff, and student mobility. Unidesk makes this possible, without a significant increase in storage."
Unidesk is unique in offering:

100% Personalization – Drives end user acceptance of virtual desktops by sustaining all user customizations – including user-installed applications, profile customizations, and documents – through desktop logouts, reboots, and operating system updates;
Effortless Management – Enables IT administrators to efficiently create and update many desktops from single images of Microsoft Windows and applications, including applications with system services and boot-time drivers that application virtualization solutions cannot deliver;
Storage Savings – Shrinks the amount of storage needed to implement desktop virtualization by preventing duplicate copies of Microsoft Windows and IT-managed applications from being stored.
Alliance and channel partners have also been anticipating the launch of Unidesk, which provides a key solution to help customers realize greater returns on virtual desktop investments.
"We're pleased to work with Unidesk, whose solutions add value to our customers' VMware View™ deployments," said Scott Davis, chief technology officer, desktop virtualization, VMware. "Dynamic desktop composition represents an advance in client management technology and can help accelerate growth for virtual desktops in cases where the ability to personalize the user experience is needed. Unidesk's layering technology is an innovative example of this type of solution and we look forward to collaborating with Unidesk to enhance the virtual desktop experience for VMware View and VMware vSphere™ customers."
According to Donn Bullock, Vice President of Sales for Virtualization & Cloud Computing at Mainline Information Systems, a Premier-level partner in the VMware Partner Network and recipient of VMware's Global Desktop Virtualization Partner of the Year award, "We were so impressed with Unidesk's approach to managing virtual desktops that we signed up to offer the Unidesk solution. "We're at the forefront of many virtual desktop projects, and the ability to simultaneously deliver full personalization, storage savings, and efficient image management in a single interface is what customers have been waiting for. The combination of VMware vSphere,™ VMware View™ and Unidesk will now help these customers capture more of the benefits of desktop virtualization."
Unidesk 1.0 Introduces Layering Innovation
Unidesk Composite Virtualization™ technology is the patent-pending layering innovation that gives both end users and IT ideal virtual desktops. All user customizations are captured and stored separately in personalization layers. Microsoft Windows and applications such as Microsoft Office are created and maintained by IT in separate operating system and application layers. By dynamically compositing these layers at boot time, Unidesk ensures that every desktop has the same set of patched and compliant base layers, while every user has a consistent, personal desktop and application experience.
Chris Midgley, Unidesk Founder and Chief Technology Officer, added, "For decades, users have wanted desktops to be personal, yet IT has wanted desktops that are easy to support, control, and maintain. Unidesk finally offers the platform that satisfies both sides of the equation. Our goal is to provide the most innovative management available for enterprises deploying virtual desktops that need to give end users a great desktop experience at a reasonable cost."
Pricing and Availability
Unidesk 1.0 is available immediately through Unidesk Solution Partners who are experts in VMware, Citrix, and Microsoft solutions. Pricing starts at $150 per named user and decreases with volume.
About Unidesk
Unidesk (http://www.unidesk.com) provides the virtual desktop management software platform that enterprises of all sizes require for desktop virtualization success. The company's patent-pending desktop layering technology extends virtual desktop solutions from VMware, Citrix, and other vendors to sustain personalization for workers who need a customizable user experience, while empowering IT with efficient management of operating system and application updates. Unidesk customers benefit from increased worker productivity and reduced IT operations and data center storage costs. Unidesk is a privately-held company with worldwide headquarters in Marlborough, Mass.
Unidesk® is a registered trademark and Composite Virtualization and CacheCloud are trademarks of Unidesk Corporation. All other trademarks and registered trademarks are property of their respective owners.
VMware, VMware View and VMware vSphere are registered trademarks and/or trademarks of VMware, Inc. in the United States and/or other jurisdictions. The use of the word "partner" or "partnership" does not imply a legal partnership relationship between VMware and any other company.
# # #