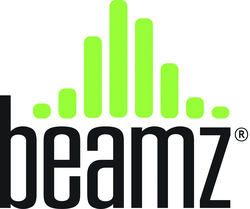 Sony's ACID Music Studio 8 and Sound Forge Audio Studio 10 applications combined with Beamz Studio software in the Beamz Studio Premium Bundle Edition offer consumers a comprehensive suite of tools to get started in the world of electronic music making
Nashville, TN (Vocus) June 19, 2010
Beamz Interactive, an interactive music products company that develops innovative musical instruments and music software, today announced a software bundling agreement with Sony Creative Software at the 2010 Summer NAMM Conference in Nashville (Booth #405). In addition to demonstrating the new Beamz Player at the show, the company is also launching the Beamz Studio Premium Bundle Edition, which combines full versions of Sony's ACID Music Studio 8 (which includes 3,000 high-quality royalty-free loops), plus Sony's Sound Forge Audio Studio 10 with Beamz Studio Software for $149.95. The Beamz Studio Premium Bundle Edition is available for purchase at http://www.thebeamz.com or in selected retail outlets beginning August 1, 2010. Beamz created this Studio/Sony Software bundle to provide consumers, amateur musicians and DJs a comprehensive solution to make innovative music creations triggered by breaking the laser beams on the Beamz Player hardware.
Beamz Studio software transforms the Beamz Player device into an interactive laser controller for creating music with dynamic possibilities. Users can import music clips and samples from their songs into the Beamz Studio software, break them down into their basic components, then assign and trigger components by breaking beams of light.
"Sony's ACID Music Studio 8 and Sound Forge Audio Studio 10 applications combined with Beamz Studio software in the Beamz Studio Premium Bundle Edition offer consumers a comprehensive suite of tools to get started in the world of electronic music making," said Beamz CEO Charlie Mollo. "We are delighted to partner with Sony Creative Software to provide these powerful music making and editing tools for our customers to create extraordinary music, triggered by light."
Comprehensive studio solution suite
The Beamz Studio Premium Bundle Edition includes full versions of Sony's ACID Music Studio and Sound Forge Audio Studio to create a comprehensive studio solution suite for original song creation, audio recording, MIDI production, studio-quality mixing, effects processing and audio mastering.
Beamz Studio Premium Bundle Edition offers users flexibility and gives them a diverse set of tools that expand with the users' skill level. Users looking for even more advanced features can upgrade the bundled software to Professional versions directly from Sony Creative Software. ACID Music Studio and Sound Forge Audio Studio each retail for $69.95. However, when bundled with the Beamz Studio application, consumers receive a $140 value for an incremental $50. Beamz Studio Software is available now from http://www.thebeamz.com for $99.95. For the Beamz Professional model C6, which features 6 laser beams, you can purchase the Beamz Studio Premium Bundle Edition separately for $149.95, or bundled with the model C6 hardware for $349.95.
"Whether an amateur musician, music educator, adult or child, the Beamz brings true benefits in exploring music," said Peter Erskine, Grammy-Award winning jazz artist. "The Beamz offers a very easy way for people to deconstruct and reconstruct compositions. I've enjoyed creating music with the Beamz and being a part of this phenomenon."
About Sony Creative Software
Sony Creative Software inspires artistic expression with its award-winning line of products for digital video, audio, and music production, as well as industry-leading technology for DVD production and Blu-ray Disc™ authoring. Sound Forge™ Pro, ACID™ Pro, and Vegas™ Pro software have defined digital content creation for a generation of creative professionals. These signature product lines continue to advance media production by providing powerful, accessible tools. Today, there is a Sony Creative Software application for every level of expertise, including a full line of consumer software based on the company's professional applications. In addition, Sony Creative Software produces the extensive Sony® Sound Series collection of royalty-free loops and samples, Sony Pictures Sound Effects Series exclusive sound effects, and Vision Series video creation assets. Further, the company provides the industry-leading tools for enterprise-level Blu-ray Disc™ authoring: Blu-code™ encoder, Blu-print® software, and on-Q Create® for Blu-ray Java. The company's customers span the globe and include professionals in the film, television, video game, and recording industries, as well as students, educators, and hobbyists.
About Beamz
Based in Scottsdale, AZ, Beamz Interactive, Inc. is an interactive music products company that develops innovative musical instruments and music entertainment products to enable people of all ages and skill levels to play music. Its premier product, the Beamz Player, is an affordable new musical instrument that allows people to make music by simply passing their hands through any of the laser beams that each triggers different streams of musical notes and sounds. Beamz players can access over a hundred songs, both originals and top hits, for inspiration to create their own music. Beginners and children can play with ease, while more experienced musicians will be amazed at its limitless possibilities to arrange, compose, produce and record music. Powered by a computer through a USB port, the Beamz is easy to install and begin using – reading music is not required. The interactive songs included with the Beamz Player and the additional songs available on the Beamz web site were created using the Beamz Studio software. Beamz Interactive's technology portfolio includes multiple patents, patents pending and trade secrets covering interactive music, software, laser-based controllers, gaming applications, and related designs and devices. Beamz products can be purchased through http://www.thebeamz.com. Check out the Beamz video to see how it works or view the Beamz video gallery.
Contact Info:
Cathy Sperrazzo
Eye-To-Eye Communications, Inc.
858-565-9800
cathy(at)eyetoeyepr(dot)com
###