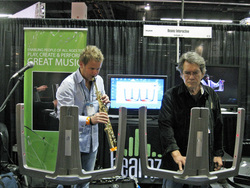 As the iPod helped to transform the experience of acquiring, storing, locating and listening to music, the Beamz Player helps listeners connect with music in a whole new way
Nashville, TN (Vocus) June 19, 2010
Beamz Interactive, an interactive music products company that develops innovative musical instruments and music entertainment products to enable people of all ages and skill levels to play music, today announced top music artists Euge Groove, Tommy Bolan and Jerry Riopelle (Beamz inventor) will be demonstrating the new Beamz Player at the 2010 Summer NAMM Conference in Nashville (Booth #405) from Friday, June 18th through Sunday, June 20th. At his noon demonstration on Saturday, June 19th, Jerry Riopelle will highlight how the Beamz is being used in the education market for the music educators at Summer NAMM. Relevant for today's music classroom, the Beamz Player is one of the education products at NAMM considered for the "Best Tools for Schools" awards.
The Beamz Player is a new and improved interactive music system features a sleek, smaller-footprint design with four laser beams that trigger up to 12 different instruments, music clips, sound effects, or vocals as you pass your hands through the beams. Each beam controls a different pre-programmed instrument, rhythm or sound, so users can easily arrange and create their own music each time they play a song. The Beamz Player will be available for purchase at http://www.thebeamz.com beginning August 1, 2010 for $199.95. The system now comes with more than 50 top-hit "jam" and original Beamz songs including 5 popular music videos for users to watch and play simultaneously, and the ShadowBeamz interactive game which allows users to sharpen their playing skills. The video songs provide a rich experience for "Beamers" to interact with music. The Beamz Player is ideal for everyone regardless of musical background or age! Beamz also announced at NAMM today the new Beamz Studio Software Premium Bundle Edition which includes ACID Music Studio and Sound Forge Audio Studio from Sony, which is sold separately for $149.95.
NAMM Artist Demonstrations:
Jerry Riopelle - Beamz inventor/roots rocker Friday: 1:30pm Saturday: Noon Sunday: Noon
Euge Groove - Contemporary jazz saxophonist Friday: Noon/4:30pm
Tommy Bolan - Lead singer and guitarist for NYC Friday: 3:00pm Saturday: 3:00pm Sunday: 3:00pm
"As the iPod helped to transform the experience of acquiring, storing, locating and listening to music, the Beamz Player helps listeners connect with music in a whole new way," said Contemporary Jazz Artist Euge Groove. "Beamz is actually improving the listening experience by making it interactive. No one until now has moved beyond the listening of music to fundamentally improve the experience of music. It's all been about passive improvements…better sound quality, faster downloads or bigger disc space for more songs. But in the end, it's always the same thing – hit play, sit back and listen. Now with Beamz you can get your hands on the music and get inside the tracks even if you don't know the first thing about music theory."
The Beamz benefits musicians who are interested in a revolutionary way to make and create music with an interactive music controller; DJs and mobile entertainers looking for a new way to engage an audience and trigger music clips by breaking laser beams; consumers interested in recreational music making and a new way to interact with music; and educators who are trying to reach special needs kids or captivate any child interested in making music.
"The Beamz is more fun and more educational than anything else I have ever brought into my classroom," said Anne Martinez, an Occupational Therapy Educational Specialist from Phoenix Union High School District. "It is a versatile tool and my kids love it!" Beamz Interactive shares NAMM's ongoing commitment to music teachers and music education. Music educators at the Summer NAMM conference are invited to get their hands on the Beamz to experience firsthand the opportunities with "playing the light". Within the last year, Beamz products are now in use in 15+ school districts and 80+ schools.
As Chief Creative Officer, Jerry Riopelle leads the content creation for the Beamz Interactive team and product development. As the visionary and inventor of the Beamz, Jerry has taken his 40+ years experience as an accomplished musician, songwriter and producer, and funneled it into the creation of one of the world's most innovative new products. After playing drums for the Hollywood Argyles he signed as a staff song writer for Screen Gems. Upon hearing a single Jerry had written and produced with Clydie King titled, "The Thrill is Gone," Phil Spector hired Jerry as a staff writer and producer for Philles Records. Jerry soon produced a Top 20 hit, "Home of the Brave," recorded by Bonnie & The Treasures. He also produced top 40 singles for recording artists April Stevens & Nino Tempo and The Parade. That success earned Jerry a job as producer at A&M Records as well as a staff writing position at Irving Music. During that time he wrote and produced for The We Five, Brewer & Shipley, The Parade, Shango, and had songs covered by Herb Alpert, Leon Russell, and later, Kenny Loggins, Rita Coolidge, Meat Loaf and many others. During his years in Hollywood, Jerry also wrote numerous songs and musical pieces for films and television shows.
Euge Groove is a smooth jazz artist. His album Born2Groove debuted at #1 and spent 18 months on the Billboard Contemporary Jazz chart. He has had many Top 10 songs, several reaching #1 including B2G, Religify, SlamDunk, Rewind and Get Em Going. Euge toured with Joe Cocker, Tina Turner, Eros Ramazotti, Richard Marx, Tower of Power and Huey Lewis and the News. In addition, he has supported Paula Abdul, Heart, Elton John, Aaron Neville, Bonnie Raitt and David Benoit as a recording artist.
With over-the-top playing and riveting live performances, Tommy Bolan is described as "One of the Most Insane Shredders of All Time." As lead singer and guitarist for NYC, Tommy plays slammin', shreddin', heavy groove-laden rock layered with fierce vocals. The band has finished recording their latest CD, Zyko. Tommy, who was born in Queens, New York, is best known for his Gold and Platinum selling work with the critically acclaimed metal band Warlock and Freight Train Jane. Catch Tommy Bolan on tour with NYC, and in his instructional DVD, Metal Primer. In between Touring and Recording, Tommy can also be seen at His Guitar Clinics Nationwide and always appearing and playing at NAMM shows!
About Beamz
Based in Scottsdale, AZ, Beamz Interactive, Inc. is an interactive music products company that develops innovative musical instruments and music entertainment products that enable people of all ages and skill levels to play music. Its premier product, the Beamz Player, is an affordable new musical instrument that allows people to make music by simply passing their hands through any of the laser beams that each triggers different streams of musical notes and sounds. Beamz players can access over a hundred songs, both originals and top hits, for inspiration to create their own music. Beginners and children can play with ease, while more experienced musicians will be amazed at its limitless possibilities to arrange, compose, produce and record music. Powered by a computer through a USB port, the Beamz is easy to install and begin using – reading music is not required. The interactive songs included with the Beamz Player and the additional songs available on the Beamz web site were created using the Beamz Studio software. Beamz Interactive's technology portfolio includes multiple patents, patents pending and trade secrets covering interactive music, software, laser-based controllers, gaming applications, and related designs and devices. Beamz products can be purchased through http://www.thebeamz.com. Check out the Beamz video to see how it works or view the Beamz video gallery.
Contact Info:
Cathy Sperrazzo
Eye-To-Eye Communications, Inc.
858-565-9800
cathy(at)eyetoeyepr(dot)com
###