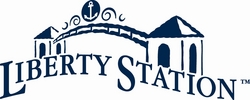 San Diego, CA (PRWEB) June 21, 2010
Liberty Station is pleased to announce that its commercial leasing progress is buzzing across the 361-acre community. The Corky McMillin Companies, developer of Liberty Station, recently provided a leasing summary for the first several months of 2010, and reported that leasing activity has increased from a year ago. While McMillin signs leases and continues negotiations with multiple major potential tenants, businesses new to Liberty Station are celebrating their grand openings at the bayside community. Liberty Station's continual growth and prime location has made it an attractive locale for boutique retailers, restaurants, grocery stores, defense contractors, artists, and wellness service providers.
In addition to the dozens of businesses that are currently operating at Liberty Station, new tenants are frequently opening their doors across the community. Last Thursday, June 17, 2010, Con Pane Rustic Breads & Café celebrated its grand opening at Liberty Station. The popular bakery formerly on Rosecrans Blvd. in Point Loma relocated to Liberty Station, nearly doubling its space. Also anticipated to open at Liberty Station in July is Five Guys Burgers.
Upcoming tenants to Liberty Station with new leases include:
RETAIL SPACE

Ekiru Sushi, 1,070 square feet, five-year lease completed in March 2008
Liberty Station Cleaners, 408 square feet, five-year lease completed in February 2010
Pigtails and Crewcuts, 1,390 square feet, five-year lease completed in June 2010
USAA signed a ten-year lease completed in June 2010 for an ATM at the Harbor pads, next to the Courtyard Marriott
Sabor Fresh Mexican Grill has replaced La Salsa
Jacobs & Spadea Jewelers moved to the former Point Loma Boardroom space at Liberty Station
Chris Jacobs, Owner of Jacobs & Spadea Jewelers/Gemologists, states, "The McMillin team was fantastic! They helped make the transition to our new space very smooth. We are thrilled with our new location, and are looking forward to many more years at Liberty Station."
Remaining Retail Space Available: The total retail space available for lease at Liberty Station is 72,918 square feet, including 57,698 square feet of the fully-restored Building 1 at NTC Landing. Building 1 was the first edifice constructed at the historic Naval Training Center. The structure boasts high ceilings, exposed trellises, and historic Spanish Colonial-style architecture. McMillin representatives have confirmed that 70% of the space available at Building 1 is under negotiation.
OFFICE SPACE

Transportation Security Administration, 16,579 square feet, ten-year lease completed in March 2009
KAB Laboratories, 3,537 square feet, five and a half-year lease completed in June 2010
Remaining Office Space Available: The total office space available for lease at Liberty Station is 29,435 square feet, which includes 5,217 square feet in building 902 (LEED Gold), and 13,000 square feet on the first floor of building 903 (The Corky McMillin Companies headquarters).
Joe Haeussler, Senior Vice President of McMillin Commercial, says, "The leasing activity for the beginning of 2010 is improved from a year ago, and we couldn't be more pleased. We are excited to bring more office and retail tenants to Liberty Station in 2010. These businesses are not only helping make Liberty Station a world-class destination, they add vitality to our community and city."
The 361-acre Liberty Station community includes 125 acres of parks, open space and a boat channel; shopping villages and restaurants; a 28-acre civic, arts and cultural district; the nine-hole Sail Ho Golf Club; three hotels on two sites; and six schools. Nearly 350 families now reside at the pedestrian-friendly Liberty Station and dozens of companies, with hundreds of employees, are doing business there. Liberty Station includes vibrant retail communities NTC Landing, the Marketplace, Harbor Square, and NTC Promenade anchored by the NTC Foundation. Liberty Station continues to receive accolades throughout the country for outstanding architectural and redevelopment design, and is a top destination in San Diego for residents and visitors. Please visit libertystation.com for more information. For leasing information, contact Matt Hietbrink at 619.226.5840.
###