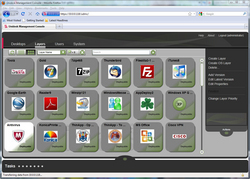 "I am very impressed by Unidesk's layering technology, which, to me, is a VDI game changer," said Iain Balmer, Infrastructure Manager at Glasgow Housing Association, Ltd. in Scotland.
Marlborough, Mass. (PRWEB) June 21, 2010
Unidesk Corporation, provider of the new management platform for desktop virtualization, is showing impressive customer momentum coinciding with its launch of Unidesk® 1.0 (see today's related press release, Unidesk 1.0 Management Platform Launches, Unleashes Full Power of Desktop Virtualization). Unidesk's commercial and university customers are joined by VMware's top resellers of Virtual Desktop Infrastructure (VDI) solutions, who have signed on as Unidesk Solution Partners. All are embracing Unidesk virtual desktop management software to accelerate VDI pilots into production and expand narrow VDI deployments to a broader range of use cases.
"I am very impressed by Unidesk's layering technology, which to me is a VDI game changer," said Iain Balmer, Infrastructure Manager at Glasgow Housing Association, Ltd. in Scotland. "Our end users have significant say over what they put on their desktops, so we need a solution that allows us to deploy personal virtual machines to users while reducing storage and management costs. Unidesk, together with VMware View, will allow me to address all of our needs for desktop personalization, application deployment, and patching of desktops."
"Unidesk will be a critical component to the success of our VDI implementation," said Randy Pond, Manager, Information Technology at Halsall Associates Limited in Canada. "As a structural engineering and design consulting firm, our employees depend heavily on their desktops to deliver business results, and they need the flexibility to install applications and make other necessary customizations. We selected Unidesk to support this personalization, and reliably deliver the latest Windows patches and applications without disrupting user productivity."
Universities are an especially strong customer segment for Unidesk, as shown by wins at Central Michigan University, University of Maryland, University of North Texas (UNT) Dallas, and Universite' de Rennes 2.
Brian Walker, Network Administrator at UNT Dallas, will use Unidesk with Pano Logic's zero client platform (see today's related press release, Pano Logic, Unidesk Collaborate on Low Cost Desktop Virtualization with 100 Percent Personalization). "We're a new university that's growing fast, and it's an overarching IT objective to keep up with this growth. We started investigating VDI as a way to centralize desktop delivery, and we quickly realized a new challenge was going to be how to keep costs down on the storage side if we were going to hand out customized virtual desktops to meet the requirements of students and faculty. We also have to package and deliver lots of applications for our end users and labs, often on short notice, and many of them we've had trouble virtualizing. Unidesk's layering technology solves all these problems."
Customers are acquiring Unidesk through a select list of channel partners, many of which are top resellers and integrators of VMware, Citrix, and Microsoft solutions. Unidesk Solution Partners include Cambridge Computer, Delta System Associates, GreenPages, INX, Ivoxy, Kovarus, Mainline Information Systems, and World Wide Technologies.
GreenPages, an IT consulting, engineering, and integration organization based in Kittery, Maine, has one of the industry's largest staffs of VDI solutions experts, is a VMware Premier-level partner in the VMware Partner Network, and was named VMware's 2008 VDI VAR of the Year. "We began working with Unidesk early on because it helps our customers simultaneously address management, personalization, and storage – three of the biggest barriers to VDI adoption," said Ron Dupler, CEO at GreenPages. "Unidesk is an important solution that enables us to deliver a VMware View™ user experience that's as good as, if not better than, what users are accustomed to on their physical PCs, while giving IT all the tools they need to maintain complete desktop control."
Unidesk Vice President of Sales Brian McDonough commented on why Unidesk is seeing such strong market momentum at availability. "The desktop virtualization market has been exciting from the start, but a bit of 'irrational exuberance' unfolded as savvy IT managers foresaw that cost savings could be elusive and that end user revolt might be inevitable without the ability to support highly customized desktops. Customers are really connecting with Unidesk to be part of a new desktop virtualization movement, as they learn they can have an IT organization that is flexible and in touch with users, and still make a strong business case for VDI."
About Unidesk
Unidesk (http://www.unidesk.com) provides the virtual desktop management software platform that enterprises of all sizes require for desktop virtualization success. The company's patent-pending desktop layering technology extends virtual desktop solutions from VMware, Citrix, and other vendors to sustain personalization for workers who need a customizable user experience, while empowering IT with efficient management of operating system and application updates. Unidesk customers benefit from increased worker productivity and reduced IT operations and data center storage costs. Unidesk is a privately-held company with worldwide headquarters in Marlborough, Mass.
# # #
Unidesk® is a registered trademark and Composite Virtualization and CacheCloud are trademarks of Unidesk Corporation. All other trademarks and registered trademarks are property of their respective owners.