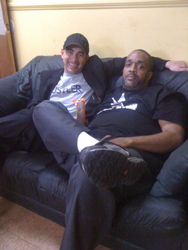 In Fashion there are no rules, no borders. Imagination has no barriers.
(PRWEB) June 19, 2010
Fashion Designer Bian Variani (Calgary, AB) is collaborating with world renowned Hip-Hop CEO Kevin Black (Los Angles, CA), Former Executive of Warner Bros. and Vice-President of rap at Interscope Records. Mr. Black assisted in the multi-platinum success of artists such as Eminem, 50 Cent, Dr. Dre, Eve, Black Eyed Pease, and The Game which earned him the Urban Hit-Maker Award at the 9th Annual Multicultural Prism Awards Gala in 2004, for guiding the company to unprecedented success.
Contracts between Variani and Black are currently in negotiations. On the 26th of June, these two dominant forces in their respective industries will sit down with Attorney's to reach an agreement.
Bian Variani, http://www.bianvariani.com/ fashion label BV, is in preproduction in San Francisco for his upcoming 2010 fashion tour across the United States. When asked about direction of his new O-10 line, Variani mentions that "Entertainment will meet fashion ... an expression of individuality, a wardrobe of character, an evening without borders and rules, [and of course] freedom of expression," imprinting his name into pop culture. Bian claims that his dare-to-be different approach to entertain will set the benchmark in the fashion industry.
In addition to his upcoming fashion tour, Bian has built an Entertainment and Social Networking website, http://www.myeventhub.com/; started off focusing as being an online media tool to promote and sell tickets to his upcoming fashion shows, now has grown to become a place where artists, promoters, and event goers can come online to promote themselves, their events, and purchase tickets, respectively; offering higher payouts to promoters and event planners. MyEventHub.com has added features that make facebook seem less attractive to its users.
Currently, Author Patricia Eisenhauer is writing a novel on Variani "Life on fashion". A sneak peak is available at http://www.bianvariani.com/. To further praise Bian's 2010 fashion tour, female vocalists have written songs about BV contributing to his marketing campaign with the upcoming hit "BV on my Body", also available on his website.
Bian Variani, along with his good friend and singer/song writer Craig Smart, will be accompanying Kevin Black and his team to the B.E.T Awards, hosted by Queen Latifah, in Los Angeles next week on June 27th, 2010. Mr. Black will be entertaining Celebrities throughout the evening of the B.E.T awards on his party-bus stopping at every major party/function.
Craig Smart, singer of Longo & Wainwright - One Life Stand ft. Craig Smart, is currently the #1 hit on iTunes Dance Charts and # 15 in National Sales Charts. A link to his hit is located below:
http://www.youtube.com/watch?v=7dytei-s7Ls&annotation_id=annotation_741609&feature=iv
Media contacts: bv(at)bianvariani(dot)com
###