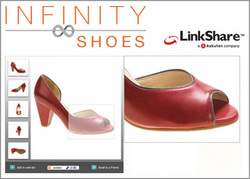 The team has done an incredible job of incorporating those characteristics into a modern, functional, and consumer friendly website, and it is a great showcase for our footwear and brand.
New York, NY (PRWEB) June 21, 2010
Infinity Shoes vies to become a top internet retailer of men's and women's fashionable footwear by entering the affiliate marketing space in the LinkShare network. Dennis Consorte, CMO of ECommerce Partners, an ecommerce solution provider and internet marketing company for InfinityShoes.com, stated, "We selected LinkShare because of their long history as a performance marketing network and the personal success I've had with them over the years for such companies as David's Cookies and Cherrybrook pet supplies."
Prior to their entrance into performance marketing, Infinity Shoes wanted their website to yield the best possible conversion from traffic to sales, as an incentive for top placement among potential publisher websites. Dan Kenigsberg, Manager of InfinityShoes.com said, "Our new web design converts over 50% better than the previous version because of all the usability upgrades implemented by ECommerce Partners." Upgrades to User Experience (UX technology) include Product Zoom, filtered search navigation, and customer reviews.
Infinity Shoes hopes to join the ranks of Zappos, Amazon and other top e-tailers as a first stop for online shoppers to buy shoes. They offer competitive pricing, over 100 shoe brands for sale and the most comprehensive selection of Miz Mooz shoes, their in-house line as a consumer brand manufacturer. Ron Kenigsberg, President of Miz Mooz, had the following to say about the partnership of Infinity Shoes and his brand. "Infinity Shoes has always stood for a certain quirkiness and edginess that can only be found in Greenwich Village, NY. The team has done an incredible job of incorporating those characteristics into a modern, functional, and consumer friendly website, and it is a great showcase for our footwear and brand."
Deepa Sureka, Vice President, Small Business Unit at LinkShare said, "We're very excited to have Infinity Shoes as one of our merchants. Their site looks great and Dennis has a strong track record for other companies in our network. We're looking forward to a long and successful partnership."
Infinity Shoes continues to focus on greater conversion and increased traffic, and is currently working on several projects to attain these goals. The team is currently in the process of implementing Celebros, an advanced site search engine which will greatly enhance the user experience on their website. They are also exploring and instituting various Search Engine Optimization (SEO) initiatives to drive qualified traffic to their site. Other planned initiatives include granular email segmentation through Blue Hornet, and further improvements are planned far in advance of Black Friday, Cyber Monday and the Christmas holiday season when InfinityShoes.com's sales are at their peak. This will allow ample time for Quality Assurance and multivariate testing for increases in conversion.
In 1991, Infinity Shoes opened its first store at 687 Broadway in SoHo, New York to bring fashionable boots and shoes with an international appeal to Downtown NYC. In 2000, Infinity Shoes introduced a new brand called Miz Mooz, marketed as edgy and cute, with casual and fashion-forward styles. Today, Infinity Shoes is the largest retailer of Miz Mooz, and carries many styles that cannot be found through other resellers. Major chains and website retailers that carry Miz Mooz include Nordstrom, BlueFly and Piperlime. Infinity Shoes also has women's shoes and boots for sale from internationally renowned brands including Frye, Minnetonka, Dr. Martens and Old Gringo. For additional information on designer shoe products for men and women, contact Dennis Consorte or visit http://www.InfinityShoes.com.
###