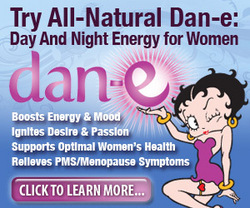 Dan-e™ is really a life-changing supplement, restoring energy to women who need it, whether they're a corporate CEO or a full-time mom
Tampa, FL (Vocus) June 22, 2010
Tampa-based Naturalceutical, LLC, today announced the launch of Dan-e™, a breakthrough new nutritional supplement for women. Dan-e™ is made of a patent-pending blend of Pro-Hormones and vital herbs, vitamins and minerals that are the essential building blocks of energy, passion and healthy hormonal balance. Made with all-natural ingredients, Dan-e™ is designed to help women live a more active, fulfilling lifestyle by day, while igniting passion and desire by night.
Developed for women by award-winning physician Daniel S. Stein, M.D., F.A.C.O.G., Dan-e™ is now available for online purchase at http://www.dan-e.com. "Dan-e™ is all about helping to improve the quality of life for women everywhere," Dr. Stein said.
Clinical studies have proven that Dan-e™ improves energy and mood, increases desire and passion, supports optimal women's health and helps to relieve normal PMS or menopausal symptoms when taken as directed. "Dan-e™ is really a life-changing supplement, restoring energy to women who need it, whether they're a corporate CEO or a full-time mom," added Stein.
Dr. Stein's research has shown that aging and stress can decrease women's natural hormones and vital nutrients. Dan-e™ replaces these nutrients to help relieve symptoms such as stress, anxiety, insomnia, moodiness, hot flashes, lack of energy, cramps and more. To learn more or to order your supply of Dan-e™, visit http://www.dan-e.com.
About Dan-e™
Dan-e™ is a women's daily supplement made with all-natural ingredients, providing a safe and effective way for women to boost energy, mood and passion without caffeine or stimulants. Developed by an award winning physician, Daniel S. Stein, M.D., F.A.C.O.G. Dan-e™ delivers safe and effective results "day-and-night." To learn more, visit http://www.dan-e.com.
# # #