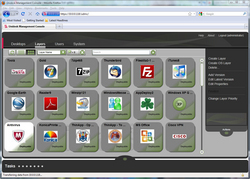 "Our students and faculty are knowledge workers of the highest order who expect their virtual desktops to be readily available with the applications they need, including applications they install themselves." Jeff Cunningham, University of Maryland
Marlborough, MA (PRWEB) June 21, 2010
Pano Logic, the leader in zero client desktop virtualization, and Unidesk, , the provider of the management platform for desktop virtualization, today announced a collaboration to further reduce the capital costs (CAPEX) and operational costs (OPEX) of desktop virtualization, while setting a new standard for user personalization and management simplicity. Joint customers and solution partners are finding that Unidesk's ability to offer end users persistent virtual desktops that maintain all customizations without requiring major storage investments and Pano Logic's ability to radically simplify desktop computing with its zero client platform are an ideal combination for VMware vSphere™-based Virtual Desktop Infrastructure (VDI) deployments.
Jeff Cunningham, Director of IT at The University of Maryland Department of Agricultural and Resource Economics, a customer of Pano Logic and Unidesk, said "As we continue through our PC refresh cycle, the Pano Logic zero clients give us the reduced energy, repair, and replacement costs and ubiquitous user access we're looking for. From the management side, Unidesk® is a game-changer. I can now custom-build lab and end user desktops without leaving my office, and rely on Unidesk's layering ability to dynamically combine the right gold image of Microsoft Windows with the right applications I've assigned."
Cunningham said Pano Logic and Unidesk are a natural fit for VDI given their shared focus on making virtual desktops cost-effective to procure, deploy, and manage, without sacrificing any of the personal computing experience. Added Cunningham, "Our students and faculty are knowledge workers of the highest order who expect their virtual desktops to be readily available with the applications they need, including applications they install themselves. Together, Unidesk and Pano Logic make this possible."
Solution providers are also recognizing the powerful combination of Pano Logic and Unidesk.
"We've been at the forefront of desktop virtualization for many years, and it's gratifying to see the market now evolving with solutions like Pano Logic and Unidesk that build on VMware's solid virtualization foundation," said Steve Kaplan, Vice President, Data Center Virtualization Practice at VMware Premier Partner INX. "VDI is a lot more compelling when you can show a CAPEX and OPEX reduction that makes virtual desktops less expensive to purchase and operate than PCs. The strong ROI offered by Pano Logic and Unidesk is just one of the reasons we're offering both products to our customers."
Pano Logic and Unidesk are collaborating to ensure their products work seamlessly together, and are engaging in product roadmap planning to align future releases. Their customer support teams are also working together to service joint customers.
"Our mission at Pano Logic is to make desktop virtualization simple and affordable, and Unidesk strengthens both of these value points for our customers," said John Kish, Pano Logic CEO. "Unidesk's unique ability to offer end users 100% personalization vastly expands the addressable market for our zero client solution and will hasten the move toward desktop centralization, benefiting both companies. We look forward to working with Unidesk on many more joint customer opportunities."
"Pano Logic is a true innovator in reducing the cost and complexity of desktop virtualization, and we're delighted that our shared value proposition is resonating so strongly with our common customers and channel partners," said Don Bulens, Unidesk CEO. "Our complementary desktop virtualization technologies are an obvious reason to be working together, but our shared vision and commitment to the channel are just as compelling. This early alignment is just the start of even better things to come from Pano Logic and Unidesk."
About Pano Logic
Pano Logic is the leader in Zero Client Desktop Computing. Pano Logic's all-in-one hardware and software solution redefines the delivery and management of end user computing by radically centralizing desktop management. Pano Logic is a complete end-to-end solution purpose-built for desktop virtualization that deploys in under an hour and dramatically simplifies the complexity and management of virtual desktops and slashes computing TCO by as much as 80 percent. The Pano Device, a zero client, contains NO processor, NO operating system, NO storage, NOR any moving parts, completely eliminating endpoint management and security breaches. The Pano Device uses less than 5 watts of energy or 97% less than a PC, drastically reducing energy costs. To learn more, visit http://www.panologic.com
About Unidesk
Unidesk (http://www.unidesk.com) provides the virtual desktop management software platform that enterprises of all sizes require for desktop virtualization success. The company's patent-pending desktop layering technology extends virtual desktop solutions from VMware, Citrix, and other vendors to sustain personalization for workers who need a customizable user experience, while empowering IT with efficient management of operating system and application updates. Unidesk customers benefit from increased worker productivity and reduced IT operations and data center storage costs. Unidesk is a privately-held company with worldwide headquarters in Marlborough, Mass.
Unidesk® is a registered trademark and Composite Virtualization and CacheCloud are trademarks of Unidesk Corporation. All other trademarks and registered trademarks are property of their respective owners.
###