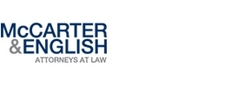 We are extremely pleased to welcome Sal to the firm
Newark, NJ (PRWEB) June 21, 2010
McCarter & English LLP announced today that Salvador "Sal" P. Simao has joined the firm as a partner in the Labor & Employment Law group, effective immediately. A former Trial Attorney for the U.S. Department of Labor, Simao will be based in the Newark office and will focus his practice on wage and hour compliance and litigation. Simao has represented employers in the retail, casino, restaurant and security industries, among others.
"We are extremely pleased to welcome Sal to the firm," said Michael A. Guariglia, McCarter's Newark office managing partner. "His wealth of knowledge, particularly his federal and local government experience, will be a valuable asset to the firm and will enhance the quality of service we are able to provide to our clients in this practice area."
Simao's extensive wage-hour litigation experience includes litigating complex matters in the U.S. District Courts of New York, New Jersey and Puerto Rico. He also has experience in providing compliance advice, counseling on the restructuring of payroll and time/attendance sheets as well as negotiating settlements with both state departments of labor and the U.S. Department of Labor. In addition, he's represented government contractors during federal audits, drafted and revised employment policies, and trained executives, human resource personnel and managers in wage and hour employment matters. Simao is also very familiar with matters pertaining to Title I of ERISA.
"With all the complexities of employment law in the current economic climate, it is great to be able to offer our clients a significant level of experience in key areas," said Pamela J. Moore, chair of McCarter's Labor & Employment Law group. "Sal's role in several wage and hour cases, along with the skills he's acquired working in different industries, will complement our group very well."
As a Trial Attorney in the Office of the New York Regional Solicitor in the U.S. Labor Department from 1999-2004, Simao had a well-respected reputation, becoming the youngest person to be awarded the title "Attorney of the Year" in 2002. From 2004-2006 he was a Trial Attorney in the Office of the Solicitor for the Plan Benefit Securities Division.
While in these DOL positions, Simao litigated several novel and high profile wage/hour cases, directed client agency investigations, oversaw corporate fraud investigations and conducted complex multi-jurisdictional settlement negotiations among multiple parties. In particular, he litigated one of the first Fair Labor Standard Act lawsuits the Department of Labor filed in state court, briefed and argued Sereboff v. Mid Atlantic Medical Services Inc. on behalf of the DOL before the fourth circuit court of appeals, established new theories of vertical integration pertaining to joint employers in district court, obtained TROs preventing shipment of "hot goods" under the FLSA and prevented retaliation against undocumented workers after the U.S. Supreme Court decided Hoffman Plastics v. NLRB.
In addition, Simao was selected to serve on the Department of Labor's Worker Exploitation Task Force and the Honors Program Hiring Committee. He was also a three-time recipient of the Secretary of Labor's Exceptional Achievement Awards.
Prior to his joining the Department of Labor, Simao was an attorney for the Internal Revenue Service in New York, where he defended the IRS in labor and employment matters before the MSPB, EEOC and in several grievance arbitrations. Most recently, Simao was a shareholder at Littler Mendelson, where he advised companies in compliance matters and litigation strategies.
He is the author of several articles, including "How to survive a wage hour investigation," which was published by the Practical Law Company in January. He has also participated as a speaker at well-known industry events, including the annual conferences of the Society for Human Resource Management and the Association of Corporate Counsel.
Born and raised in Newark, Simao earned his J.D. from Rutgers University School of Law. He received his B.A. degree in Political Science from Seton Hall University and also completed the Trial Advocacy course at the National Institute of Trial Advocacy.
Fluent in Portuguese, Simao is a Benjamin Aranda Lifetime Member of the Hispanic National Bar Association and a member of the American Bar Association's Fair Labor Standards Subcommittee. He is admitted to practice law in New Jersey, New York and the District of Columbia.
About McCarter & English
McCarter & English, established more than 160 years ago, represents Fortune 500 and middle-market companies in their national, regional and local litigation and on important transactions. Its 400 attorneys are based in offices in Boston, Hartford, New York, Newark, Philadelphia, Stamford and Wilmington. http://www.mccarter.com
###