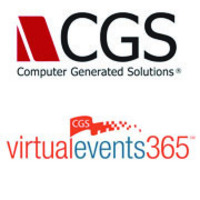 Frank brings valuable experience and knowledge to our expanding healthcare industry efforts
New York (Vocus) June 23, 2010
Computer Generated Solutions, Inc. (CGS) has added 20-year healthcare publishing and communications industry veteran Frank T. Iorio to bolster the team's experience in response to strong industry demand for its online events solution, VirtualEvents365 (http://www.virtualevents365.com). As Director of Health Sciences Virtual Solutions, Mr. Iorio will play a key business development role for the company's integrated online event technology and professional event services in this important market.
"Frank brings valuable experience and knowledge to our expanding healthcare industry efforts," noted Tom Wieser, Vice President of Virtual Event Solutions. "Because virtual events offer such wide-ranging business improvement opportunities to the industry, we are experiencing fast-growing demand for our solutions across the health sciences market. We look forward to working with Frank as he helps us address and grow opportunities with current and future healthcare clients."
Prior to joining CGS VirtualEvents365, Mr. Iorio served in a variety of senior-level industry positions; including Director of Publishing & Business Development at The American Medical Association (AMA), Senior Vice President/Pharmaceutical Communications at Elsevier, and Group Publisher at Thompson International.
About CGS VirtualEvents365
CGS VirtualEvents365 is the global leader in virtual event solutions for corporate events, demand generation marketing events & launches, corporate e-learning, virtual job fairs, virtual conferences and virtual tradeshows. This innovative platform builds on CGS's 25 years of excellence in developing technology-based solutions for more than 3,500 organizations worldwide. For more information please visit http://www.virtualevents365.com.
About CGS
For over twenty-five years, CGS has enabled global enterprises, regional companies and government agencies to drive breakthrough performance through technology. With global delivery capabilities, expertise across leading platforms and deep experience in multiple industries, CGS has become the IT partner of choice for thousands of organizations worldwide. CGS delivers a wide array of proprietary and third-party business applications, technology and business services, outsourcing solutions and learning & communications platforms. Headquartered in New York City, CGS maintains a worldwide presence with 18 offices in North America, Europe and Asia. For more information please visit http://www.cgsinc.com.
###