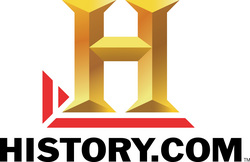 HISTORY has had a phenomenal start to 2010, currently ranked as the number one non-fiction network to date, and top ten in all key demos, and the re-launch of History.com in conjunction with our top new and returning series heralds an exciting new chapter for the network
New York, NY (PRWEB) June 21, 2010
HISTORY™ today announced that History.com, the leading online resource for all things history, will officially re-launch on July 4. The site, originally created as a showcase for the network's on-air programming and some additional historical content, has been revamped with a multimedia, topics-based approach that brings a first of its kind experience to history enthusiasts, casual information seekers, students and educators. The announcement was made by Nancy Dubuc, President and General Manager, HISTORY.
The new History.com, recently launched in beta, already features more than 15,000 topics addressing the history of eras, events, people, dates and more, and differentiates itself from any other site in this genre with a rich multimedia offering of more than 4,000 videos, 2,500 photos, 550 audio clips, and 50 interactive features at launch. The content offering will grow each month with the addition of new topics and supporting multimedia, and the rebuilt site is scalable in a way that supports a greater breadth of historical content than can be found anywhere else online.
Among the interactive features currently being highlighted are an extensive Independence Day page, featuring videos, photos, articles, trivia and other content that will be added to as the official Fourth of July launch date approaches. In addition to allowing visitors to dig deep into topics such as American Holidays and the many historical topics related to them – for example, the American Revolution or the Founding Fathers – History.com will continue to support the television network's original series and specials.
"HISTORY has had a phenomenal start to 2010, currently ranked as the number one non-fiction network to date, and top ten in all key demos, and the re-launch of History.com in conjunction with our top new and returning series heralds an exciting new chapter for the network," said Ms. Dubuc. "The re-launched History.com is the next step in the evolution of the HISTORY brand and we are eager to offer consumers more informational, educational and entertaining content than ever before."
Visitors to History.com can extend the epic journey of HISTORY's landmark series, America The Story of Us, through the 400-year history of the United States via online content created in conjunction with recently-concluded series. The ultimate viewing companion to the series, and a prime example of what visitors can expect from the new History.com, online features complementing America The Story of Us allow the television audience to go online to continue learning about the over 200 new topics added to the site and touching on key events, figures and themes referenced in the series. History.com saw its most page views ever on April 25, the date America The Story of Us premiered, attracting an audience that relished the ability to easily dig deeper online into topics referenced on television.
"The new History.com is a one-of-a-kind offering and we are excited to stake our claim as the source for history in the digital space," added Dan Suratt, EVP, Digital Media and Business Development, A&E Television Networks. "Our wealth of multimedia is already unrivaled and the site's offerings will only get better as we increase the breadth of trusted and accurate content."
Additional Special Features Include:

The site will now focus on providing historical context to current events, news and anniversaries with 'History Behind the Headlines' – a new franchise that complements the network's slogan of "History Made Every Day." The content is prominently featured in the top story area of the home page and a dedicated section featuring the content will be unveiled in the coming weeks.
'This Day in History' (TDIH), the most popular feature on History.com, is being enhanced with more than 9,000 articles, a dynamic new presentation featuring a daily video recounting historical events for every day of the year, and the addition of two new TDIH categories: 'This Day in Hollywood History' and 'This Day in Music History.' Those verticals join the 14 existing TDIH subjects within the franchise: American Revolution, Automotive, Civil War, Cold War, Crime, Disaster, General Interest, Literary, Old West, Presidential, Sports, Vietnam War, World War I, and World War II.
Also recently launched is 'The Ultimate History Quiz,' which has quickly become the fourth most popular feature on History.com. The game tests both a user's knowledge of history as well as his or her ability to answer questions quickly – the faster an answer, the more points are collected – and players can challenge friends and check leader boards that rank most accurate, fastest and top individual scores.
Additionally, fans can visit History.com to learn all about the new and returning series that premiered on HISTORY June 6 and 7: Top Shot, the network's first competition series (new series airs Sundays at 10pm); Ice Road Truckers (season four airs Sundays at 9pm); Pawn Stars (season three airs Mondays at 10pm); and American Pickers (season two airs Mondays at 9pm). Pages dedicated to these programs include videos, photos and articles about each, bringing added emphasis on connecting visitors to additional information and topics within the broader spectrum of history, and providing viewers with the opportunity to engage with these brands via interactive platforms.
More online features as well as new, short-form, original Web videos will be launched in the coming months, along with hundreds of new topics. Also, visitors to History.com will have one-click access from program pages to related topics, DVDs available in the e-commerce store, and to message boards, Twitter feeds, Facebook pages and other communities, when available.
About AETN Digital Media
AETN Digital Media, a division of A&E Television Networks, LLC, is a leading provider of digital content for properties including History, Lifetime, A&E, Biography, Roiworld, DressUpChallenge, Lifetime Moms and MothersClick. More than 13 million unique visitors per month engage with the company's digital brands across 14 properties, and millions more consume the content via syndication, social media and mobile.
About HISTORY™
HISTORY™ and HISTORY HD™ are the leading destinations for revealing, award-winning original non-fiction series and event-driven specials that connect history with viewers in an informative, immersive and entertaining manner across multiple platforms. Programming covers a diverse variety of historical genres ranging from military history to contemporary history, technology to natural history, as well as science, archaeology and pop culture. Among the network's program offerings are hit series such as Ax Men, Battle 360, How The Earth Was Made, Ice Road Truckers, Pawn Stars and The Universe, as well as acclaimed specials including 102 Minutes That Changed America, 1968 with Tom Brokaw, King, Life After People, Nostradamus: 2012, Star Wars: The Legacy Revealed and WWII in HD. HISTORY has earned four Peabody Awards, seven Primetime Emmy® Awards, 12 News & Documentary Emmy® Awards and received the prestigious Governor's Award from the Academy of Television Arts & Sciences for the network's Save Our History® campaign dedicated to historic preservation and history education. Take a Veteran to School Day is the network's latest initiative connecting America's schools and communities with veterans from all wars. The HISTORY web site, located at http://www.history.com, is the leading online resource for all things history, featuring over 20,000 videos, images, audio clips, articles and interactive features that allow visitors to dig deeper into a broad range of thousands of historical topics.
###