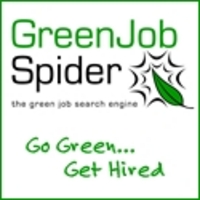 New York, NY (PRWEB) June 22, 2010
GreenJobSpider.com, the niche search engine for green jobs is now indexing more than 8,000 green jobs according to a company spokesman. The site defines green jobs as those that create, support, maintain or regulate recycling, energy efficiency or renewable energy products & services.
Launched in March of 2010, GreenJobSpider.com has quickly become the largest site with the most green jobs. They are not a typical job board. They are a job search engine which crawls the web looking for green jobs on other job sites and green employers, such as those in the solar, biofuel and wind power industries. When someone does a search on their site the user sees a list of matching job titles and by clicking the link is taken to where that job resides either on a company website or another job board.
Their database of jobs includes the following categories and types: Solar, Wind, Biofuel, Geothermal, Engineering, Weatherization, Fuel Cell, Wastewater, Recycling, Green Building, Sustainability, Smart Grid, Conservation and of course green jobs in sales, marketing, finance. Green Internships and Entry-Level green jobs are also listed.
Free for job seekers, the site aims to capitalize on the green job movement now underway. Billions of dollars are being invested into renewable energy projects & technologies and those companies in that space are hiring. Thus far the two most prevalent job openings seem to be in sales and engineering.
The site also has a green job blog, green job videos and a calendar of green events across the country. Currently they list only U.S. jobs although other country sites are planned.
Learn more at http://www.greenjobspider.com
###