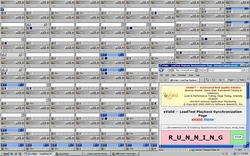 When eValid runs a test on an AJAX application, it appears completely real to the application servers. Running large numbers of eValid instances - we call then Browser Userss (BUs) gives you the Holy Grail of AJAX Performance Testing: Real Users.
San Francisco, CA (PRWEB) June 20, 2010
Software Research Inc., maker of the widely used eValid browser based web application suite, has announced a major breakthrough in Server Load Performance Testing for AJAX-based web applications. Using eValid's simultaneous launched test-enabled live web browsers, eValid can generate server load up to 1,000 browser users per machine and expand the scalability of load testing in the hundred of thousands, using computer cloud resources in sustained tests for many hours and at very low costs.
The web becomes more and more pervasive, and AJAX applications become more and more sophisticated, so having an application that "scales" well in terms of achieved user performance is a critically important issue. This means that the only way that online businesses or IT departments will experience web applications as theirs customers will experience them is to use performance monitoring tools that gather real-time data over the internet. Relying on results created by "virtual users" will indeed give you a "virtual reality", but can never report the real-world situation you need to know about to safeguard your web presence.
"Because eValid is built in a browser, when it runs a test on an AJAX application it appears completely real to the application servers. Running large numbers of eValid instances -- we call them Browser Users (BUs) -- using compute-cloud resources gives you the Holy Grail of AJAX Performance Testing: Real Users. You get high loads and you don't have to spend a fortune to do it," said Edward Miller, President of Software Research and eValid's Chief Architect.
Recent technical advances and new machine image capabilities from the cloud-computing community, allow eValid to run sophisticated AJAX application tests with 1,000+ BU's per machine. Every BU is a separate eValid instance, so the test playbacks have extremely good accuracy and reality. Using ten machines in the cloud yields ~100,000+ BU's.
To help introduce these new eValid capabilities we are making a special short-term offer of Across-The-Board Discounts on both our PerformanceTest Services and on Server Loading Bundle licenses.
An upcoming Webinar "Cloud-Based AJAX Performance Testing", scheduled for Wednesday, 23 June 2010, will show how an eValid user can record tests from life, make a few key script modifications to assure that they are LoadTest safe, lift them in 100-wide scenario partitions, and then run the 100-wide partitions on multiple very-large cloud-computers, collect data as the imposed server load ramps up, and display scenario-wide end-user perspective performance results.
About the eValid Suite
*General Description
eValid is a test-enabled web browser supporting Windows 2000/XP/Vista. eValid V9 license bundles are available for Application Monitoring, Functional Testing/Validation, Test Programming, Regression Testing, Server Loading, Performance Testing and Site Analysis. An available International Edition DBCS and foreign-language environments.
Evaluation copies of eValid V9 are available from the eValid V9 Evaluation Download. Pricing for product features starts at $495. Complete information about eValid is found at: http://www.e-valid.com.
About Software Research, Inc.
Software Research, Inc. has been at the forefront of technology innovations and has assisted thousands of users worldwide to produce higher quality software. Large corporations and the public sector -- insurance, telecommunications, banking, manufacturing, and other industrial, educational and government institutions -- have counted on its services and automation tools to manage information technology and web applications reliably; to complete enterprise critical tasks and to test their product offering before release.
Founded in 1985 as a consulting and services organization, Software Research was the pioneer in Software Testing and Quality Assurance, bringing the TestWorks product line to market in 1985. It was the first integrated automated testing solution for the client server environment. Today, Software Research remains at the forefront of innovative testing solution with the patented eValid Suite, the test-enabled web browser, to support automation requirements for the quality, reliability and performance of a variety of web-based applications.
Contact us: eValid Division, Software Research, Inc., 1663 Mission Street, San Francisco, CA 94103 USA
Phone: +1 (415) 861-2800 FAX: +1 (415) 861-9801
WEB: http://www.e-valid.com
BLOG: e-valid.blogspot.com
FORUM: forum.e-valid.com
INFO: Information Request
eValid™, eValid/I™, and InBrowser Technology™ are trademarks or registered trademarks of Software Research, Inc., eValid Division. All other trademarks are owned by their respective companies.
# # #