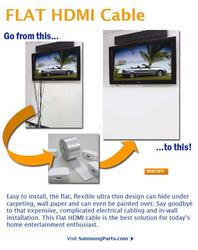 SamsungParts.com takes pride in giving Samsung customers access to the most innovative parts and accessories on the market, and bringing this award-winning product to market is another example of this
Fairfield, New Jersey (PRWEB) June 21, 2010
SamsungParts.com, a leading online supplier of electronics parts and accessories, today announced that it is now offering the Wiretape Blu flat HDMI cable. Winner of a CES 2010 Innovations Award, Wiretape Blu allows for Samsung HDTV sets to be connected to other audio/visual devices such as DVD and Blu-Ray players, DVRs, home theater systems and game consoles without the usual collection of tangled and messy cords and wires.
Whether you are using a Samsung wall mount or have your TV in an entertainment center, Wiretape Blu is a discreet and efficient way to connect your devices. Wiretape Blu is an invisible, flat HDMI cable that can be customized to any length simply by measuring the desired amount and cutting of the remainder prior to assembly. It's as easy as cutting tape, but when you attach the HDMI connectors it's a reliable and effective solution for connecting your A/V equipment. Wiretape Blu can be hidden underneath carpeting, wall paper, or even attached to a wall and painted over to make it completely invisible.
"If you are a home entertainment buff, you have probably dealt with the inconvenience and disorganized look of having lots of cables and cords running through your entertainment system," said SamsungParts.com spokesperson Miae Oh. "The Wiretape Blu is the perfect replacement for a Samsung AV cable. Its flexibility and ultra-thin design makes it ideal for creating a clean, tangle-free solution for your HDMI connections. SamsungParts.com takes pride in giving Samsung customers access to the most innovative parts and accessories on the market, and bringing this award-winning product to market is another example of this."
The Wiretape Blu is a wonderful replacement for customers frustrated with having their Samsung HDMI cable and cord solution strewn throughout their living room. It is currently available at SamsungParts.com for $36.36 for six feet of tape and two end connectors. For more information, visit http://www.samsungparts.com.
About SamsungParts.com:
SamsungParts.com is an authorized distributor of parts and accessories for Samsung home electronics. This includes products for audio/visual systems, home appliances, computers and more. We are also accredited by the Better Business Bureau and VeriSign Secured. For more information, please visit http://www.samsungparts.com.
# # #