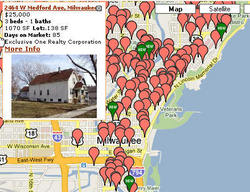 Milwaukee, WI (PRWEB) June 22, 2010
Schools across Wisconsin are out for summer vacation; an event that also signals the start of the summer moving season. According to the American Moving & Storage Association 33-39% of movers plan their moves for the months of June, July and August each year, increasing competition in the real estate market and making it extremely important for families to be prepared to act quickly when they start searching real estate listings for a new home.
To make an informed home purchase decision, there are certain factors anyone considering a move should evaluate before beginning their home search. Local real estate market history, foreclosure rates, school performance and your neighbors are just a few of the factors that will affect your quality of life and the future value of a home.
Movoto.com is a free online resource now available in Wisconsin. Families, or anyone planning to purchase a home, can use Movoto.com to gain access to accurate and complete multiple listing service (MLS) homes for sale listings, state test scores for schools, crime statistics, local market trends including foreclosure rates and more – everything they need to consider in their search.
A popular summer vacation destination for Midwesterners, many houses near lakes or woods in Wisconsin attract buyers looking for a second home. With the launch of Movoto.com in Wisconsin, homebuyers from across the country can now access up-to-date homes for sale listings throughout the state and be referred to a top-performing local real estate agent to assist them with buying a Wisconsin vacation home.
For more information and to access the latest MLS homes for sale listings for free, visit http://www.movoto.com.
About Movoto
Founded in 2005, Redwood-City-based Movoto is led by an experienced team of real estate industry veterans and Internet technology experts with a shared vision of empowering real estate consumers. Movoto provides a unique online home buying solution that combines innovative, easy-to-use research tools with ready access to a network of experienced local real estate agents. Movoto's expanded service adds homes for sale in the Milwaukee and Madison metro areas to Movoto's current coverage of homes for sale in over 50 top metropolitan areas in the United States.
###