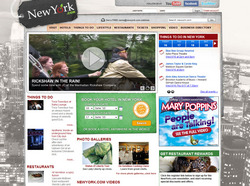 Platformic was able to provide us with the rare combination of technology, professional design, rich interactive features and robust content management tools to address all of our needs
San Diego, CA (PRWEB) June 21, 2010
Platformic, an end-to-end online web development environment (OWDE) and content management system (CMS) provider that allows businesses to quickly and easily build and maintain websites without coding or third party authoring tools, today announced it has been selected to power, and manage all content, for the newly redesigned Newyork.com, launched earlier this month. The site, which serves as an exclusive guide to all that New York City and State has to offer, employs its own staff of writers, videographers and hosts to create fresh content that is updated on a daily basis.
Visitors can find everything they need to know about restaurants, shopping, events, nightlife, entertainment and lifestyle within New York on the new, more robust, easier to navigate site newyork.com. They can perform transactions online and join social networks, including commenting on articles and video. NewYork.com will also be home to multiple episodic video series designed for tourists and locals. Among the video series will be:

The Underground New Yorker – leads locals and tourists to great finds off the beaten path
The Super Tourist – walks tourists through traditional New York attractions, such as The Madame Tussaud Museum, Central Park and The Statue of Liberty
New York Moment – captures the essence and ambience of everything New York, including break dancing and street performances
Best of New York – from pizza to spas, a new topic will be addressed each week
"Whether you are coming to New York as a tourist for your first time or your hundredth time, or you are someone who has lived in New York your entire life, we wanted to bring together the eclectic nature of the city and state to inform and entertain our visitors and make them a part of all that New York has to offer. Our fresh, more interactive layout and constantly changing content, enables visitors to engage with the city and envision the nostalgia and everything possible when you come to New York. By combining original content in the form of writing, video and social networks, we needed a professional platform that would help to take our vision to the next level. Platformic was able to provide us with the rare combination of technology, professional design, rich interactive features and robust content management tools to address all of our needs, and do all of this without requiring programming expertise or a large expenditure of time," said Todd Berman, general manager and managing director for NewYork.com.
"At Platformic, we are excited about the launch of NewYork.com and this new, interactive destination as a testimonial to what can be done with the power of the web and our technology," said CEO of Platformic, Claudio Canive. "We aim to be 'the everything platform' for media publishing; targeted ad serving; managing content, videos, mobile content, and more. We strive to make the web more manageable and put full control in our clients' hands."
NewYork.com, and other Platformic customers, can take advantage of powerful features to:
Syndicate content through multiple sites
Present content for mobile devices
Leverage social media outlets
Publish video
Engage visitors with contests, forms, broadcast emails, ad serving, polls, forums and message boards
Platformic's patented technology, used by leading companies around the globe such as Comcast, Fox, Tribune, Bicoastal Media, Broadcast Company of the Americas and Peak Broadcasting, enables users to easily build and manage media-rich websites that incorporate social media tools and user generated content (UGC). Users can "visually" create layouts and manage content from a browser in a fraction of the time while adhering to professional standards. The result is a completely customized website and CMS with the ability to change the layout and content quickly and easily. Users can update sites or change their entire look in minutes with no downtime. Staff members with little or no web experience can then simply update the sites more often to keep content fresh and make the site "stickier" for visitors.
About Platformic
Platformic is a complete end-to-end online web development environment (OWDE) and content management platform that allows businesses to quickly and easily build/update websites in real-time without sacrificing professional or creative standards or writing a single line of code. Used by leading companies such as Peak Broadcasting, Comcast SportsNet, Fox, Tribune and others, Platformic enables even users that are not technical in nature to visually create feature-rich websites from their browser that incorporate podcasts, video blogs, user-generated content, and other interactive tools and further the organization's online goals. Platformic makes updating content and its various formatting easy to manage, throughout the website, from a central place. Its versatility allows departments throughout an organization to expand online offerings and do more with less. For more information, visit http://www.platformic.com.
NOTE: Screenshots available upon request.
# # #