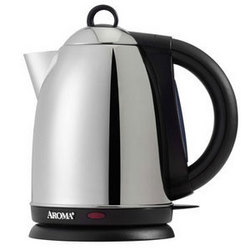 Electric kettles have really taken off in the past year for us
San Diego (Vocus) June 22, 2010
America may still be a nation of coffee drinkers, but tea is steadily steeping its way into kitchens across the nation. Tea consumption in the US (already a $7 billion industry) has sky rocketed over the past few years. Long a household staple in tea-loving Europe and Asia, electric kettles are quickly bubbling up in the US as well. Aroma Housewares, America's top-selling electric kettle brand according to the NPD group, has experienced this burgeoning growth first-hand.
"Electric kettles have really taken off in the past year for us," said Kyle Erickson, Marketing Manager for Aroma. "Consumers are beginning to realize that electric kettles are the best way to boil."
Electric kettles do boast quite a few advantages over their stovetop forbearers. Unlike the traditional stovetop kettle, electric kettles automatically shut off once water reaches a roiling boil— so there's no need to worry about a forgotten boiling kettle.
Not only are electric kettles safer, but they're faster too! Electric kettles from Aroma Housewares boil at a blazing "cup-a-minute" pace, nearly twice as fast as boiling on the stovetop.
Electric kettles make it extremely easy to pour the piping hot water once it is ready as well. The cool-touch handles eliminate the need for oven mitts. Many of Aroma's electric kettles also feature cordless pouring for easy serving anywhere in the home.
More and more Americans are quickly realizing that an electric kettle is the perfect solution for their hot beverage needs. Aroma's electric kettles are ideal not only for brewing favorite tea varieties, but also quick and delicious hot chocolate, invigorating instant coffee, a simple and scrumptious noodle dinner or even for promptly preparing a batch of baby formula.
In fact, in an Aroma consumer survey, over 81% of consumers who owned an electric kettle reported using it everyday. Once families realize the advantages an electric kettle provides, it rapidly becomes an indispensable part of the home.
For more information on electric kettles, or to request a sample of America's Favorite Electric Kettle to review, contact Kyle Erickson at kerickson(at)aromaco(dot)com or 858-587-8866.
# # #