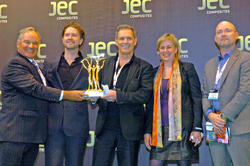 "As in other sectors, composite processors are under pressure," said Frédérique Mutel, president/CEO of the JEC Group. "MFG exemplifies a company that has diversified its expertise to reach new markets and demonstrated its receptivity to customer needs."
(PRWEB) June 21, 2010
The CEO of Molded Fiber Glass Companies, a distinguished international composites manufacturer, has earned additional recognition while serving as honorary president of the recent JEC Composites tradeshow in Paris.
Richard Morrison opened the global show and served as a host for the awards ceremony. He also presented an overview of the fast-growing U.S. wind energy market, which Molded Fiber Glass (MFG) supports by manufacturing blades for wind turbines.
During the global show, MFG was cited as one of the most "innovative advanced composite enterprises in the United States."
"As in other sectors, composite processors are currently under pressure, squeezed between raw material suppliers, who are hiking up their rates, and customers, who are holding out for better prices," said Frédérique Mutel, president and CEO of the JEC Group, which promotes the use of composites worldwide.
"Some of them, like MFG, have adapted their strategy to market needs, concentrating their efforts on new materials that are lighter and stronger, and designing manufacturing processes that save on materials and reduce costs. MFG epitomizes the processing companies that have continuously reassessed their situation in order to adapt and develop successfully over the decades. MFG also serves as a good example as a company that has diversified its expertise to reach new markets and demonstrated its receptivity to customer needs."
"What a great honor for us to be recognized on the world stage," Morrison said. "All the accolades are made possible by innovative and dedicated employees committed to quality and customer service."
About Molded Fiber Glass
Molded Fiber Glass Companies is a leader in the field of reinforced plastics and composites, serving diverse markets with a variety of composite material systems. The company has 16 operating entities in the United States and Mexico, strategically focused to supply high value, high quality products and manufacturing services for applications such as wind energy, automotive, heavy truck, defence, construction, material handling and water treatment. The company is headquartered in Ashtabula, OH and is privately owned. More information on the company is available at moldedfiberglass.com.
About Richard Morrison
Richard began his composites career in 1968 as a production manager for the Molded Fiber Glass Boat Company. In 1970, he was elevated to the position of president and general manager. In 1979, he migrated to the Molded Fiber Glass Tray Company in Linesville Pa., serving as its president and general manager. Since 1987, Richard has served as president and CEO of the Molded Fiber Glass Companies, which has grown to include 16 entities in the USA and Mexico. Mr. Morrison is an alumnus of Stanford University.
About JEC
JEC Composites promotes the use of composite materials worldwide. The group informs and puts in touch 250,000 composite professionals, offering them a comprehensive service package: JEC's publications, which include strategic studies, technical books, JEC Composites Magazine, and e-publications such as the JEC Composites weekly international e-letter and a French e-letter (JEC Info Composites); the http://www.jeccomposites.com website; and two trade fairs – the world-class JEC Composites Show in Paris and the JEC Asia show in Singapore – along with their associated Forums & Workshops, and JEC Innovation Awards Programme.
###