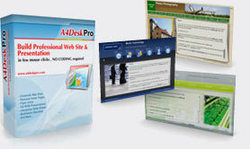 If you are looking for an easy to use, all-in-1, and affordable site builder software to create full-featured websites with stunning flash animations, give A4DeskPro a try
(PRWEB) June 20, 2010
2010 marks the highly anticipated release of A4DeskPro v.5 series, with the newly added built-in video player, photo gallery, music player and shopping cart included to let users better integrate Flash widgets into their website and deliver the best look-and-feel.
At the heart of Flash website builder is a WYSIWYG editor with a huge range of highly customizable Flash website templates for Microsoft® Windows 98/NT/XP/Vista/7 users. Users can feel free to select a favorite template, fill in the content, modify the font, or even change the site color as per their own preference. Not only does the extremely easy-to-use interface, the multiple menus navigation, stunning Flash animation effect, ability to add background music, images and videos are also a great plus for the software. In case you want to set up an online store selling products, the shopping cart that already built right in makes building the stores easy, efficient and simple. Once you have built your site, just click the Preview button to see what your site looks like in browser, and then upload it using the built in FTP tool. The whole process can be done in just a few clicks of mouse.
Apart from that, the website builder software allows you to quickly switch to other available languages like English, German, French, Italian and Spanish for the user interface. With Unicode character supported, building a multi language site is possible. This feature can definitely help business owners to reach a wider spectrum of audiences.
A4DeskPro has been carefully developed keeping in mind the aspirations and requirement for other non-technical users. Gone were the days when using complex programming and Adobe Flash to create a professionally looking site that is enough to make your head spin. A4DeskPro doesn't require you to have any programming, coding or prior Flash editing experience. Its HTML editor contains several buttons to style the font, add hyperlinks and contact form, so scripting and HTML editing knowledge is also not needed.
"If you are looking for an easy to use, all-in-1, and affordable site builder software to create full-featured websites with stunning flash animations, give this program a try ", said Godfrey Ko, managing director of company, "In the past, only professional graphic designer, flash animator and actionscript programmers can create websites using the latest Flash technology. A4DeskPro enables webmasters of any level to create multiple stunning websites from their PC. Anyone can now build a multimedia website and presentation in minutes, the design possibilities are unlimited. "
A free trial version is available now at http://www.a4deskpro.com/download.php
###