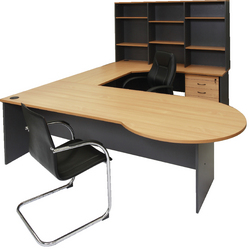 "Fast Office Furniture adds a new dimension to the already excellent range of office furniture offered by Ikcon"
Brisbane, Australia (PRWEB) June 22, 2010
Ikcon Pty Ltd (t/a Ikcon Office Furniture and Fitout) is proud to launch their new office furniture company – Fast Office Furniture http://www.fastofficefurniture.com.au.
Ikcon is emerging as a strong leader in the office furniture industry in South East Queensland, Brisbane and beyond. The small, professional team is able to respond quickly and efficiently to client's requirements and they are setting the benchmarks for top quality customer service.
Ikcon has always prided itself on responding to the ever-changing needs in the industry. Office furniture is a highly competitive business and buyers have become more prudent about their requirements. Many companies these days are working at pace and to tight budgets and need to respond quickly to increases or changes in staffing, the utilisation of extra office space etc etc.
Two issues have always been a stumbling block in the industry – one being price and the second being time frames to delivery. Fast Office Furniture solves these two issues with aplomb. Prices are very competitive and all items are available within 3 – 5 working days.
The website is clean, clear and user-friendly and offers customers a number of excellent options to aesthetically enhance any working environment, including office desks and office chairs . There are various size and colour choices and prices are listed for easy budgeting purposes.
All items on the Fast Office Furniture website carry a 3 year warranty and orders over $500 receive free delivery and assembly. Regular 'free special offers' on the website, make this range even more economically attractive.
Ikcon is proud to add the Fast Office Furniture range to their already outstanding platform of functional and contemporary office furniture. Visit Fast Office Furniture at http://www.fastofficefurniture.com.au for more information and to view the full range on offer.
Footnote - Ikcon has recently been awarded a Gold Certificate for meeting exacting standards in environmental protection by GreenBizCheck. GreenBizCheck is a global, technology-based environmental certification process which requires rigorous internal examination of current processes. We are determined to continue raising awareness of enviromental issues through role-modelling and the implementation of good practice in all spheres of our business.
# # #