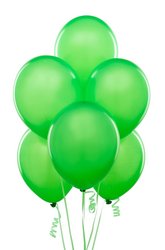 Americans need a figurative Green Zone, i.e. a heavily fortified zone in which they can responsibly challenge government as well as corporate waste, fraud, and abuse with impunity.
Abilene, TX (PRWEB) June 24, 2010
Citizen activists gathered in West Texas to kick off the "Green Zone Campaign." Symbolic green balloons floated through the air at Everman Park in downtown Abilene, Texas just after Father's Day 2010.
"The balloons represent the loftiness of our intent to restore meaningful citizen oversight in America" says Zena Crenshaw-Logal. She is Executive Director of POPULAR, Inc. (POPULAR), a national legal reform organization coordinating the GZC.
"(T)he ability of average Americans to effectively petition their government is so diluted or compromised that what would otherwise be our constitutional and universal human rights are no more than privileges, doled out at government discretion."
POPULAR recently joined a coalition of grassroots advocates making that report to the U.N. for its upcoming, Universal Periodic Review of America's human rights record. Crenshaw-Logal recounts joining a Capitol Hill delegation to deliver copies of the U.N. submission to staff for key members of Congress.
"Even the overview of our U.N. submission firmly suggests the lack of meaningful citizen oversight in America" chided Crenshaw-Logal. "Our submission evidences another reality inspiring my trips to Capitol Hill and West Texas. My colleagues and I face an apparent but unspoken threat of government retaliation."
According to its webpages, a GZC premise is that Americans need a figurative "Green Zone", i.e. "a heavily fortified zone in which they can responsibly challenge government as well as corporate waste, fraud, and abuse with impunity."
As part of launching the GZC, Crenshaw-Logal noted challenging certain West Texas law enforcement, joined by George Stokes, Sr., a POPULAR Advisory Board member, and other residents.
Stokes and Crenshaw-Logal called for a Special Prosecutor to handle recent child pornography allegations against POPULAR Advisory Board member Michayl Mellen. Stokes and Crenshaw-Logal report, "Mellen categorically denies the allegations pending as State of Texas vs. Michayl Lamar Mellen
Unindicted Poss / Promotion of Child Pornography F3."
In an earlier press statement, Stokes shared concern that Mellen was "arrested and all our files have been seized under very, very questionable circumstances."
Stokes is president of the Texas State Client Council – Abilene Division (TSCCAD) and Mellen is the group's "Corresponding Secretary."
A former trial attorney and current member of the bar for the Seventh Circuit U.S. Court of Appeals, Crenshaw-Logal alleges "(t)he search and seizure (of Mellen's personal effects) unduly chills all criminal justice system watchdogs (and their) informants."
She adds "with very few details Mellen has been sullied by the same criminal justice system he regularly challenges. And our related complaints are conveniently discredited in the process."
The GZC contends "there could not be a republican form of government in any American state, home to a citizen with an actionable claim of retaliation under color of law for his or her attempt to expose or otherwise redress any serious, cognizable threat to American democracy."
The campaign webpages contend "(a) proximate cause of that retaliation is Congress' failure to supervise federal government so that its policies, priorities, and procedures deter such retaliation and otherwise preserve meaningful citizen oversight in America."
Organizers are contemplating a lawsuit against Congress under Article IV, Section 4 of the U.S. Constitution which guarantees to " . . . every State in this Union a Republican Form of Government . . ."
Success for the GZC is not only "hearty public awareness, but the earnest cataloging of prospective plaintiffs, their case summaries, relevant facts, law, and tangible evidence."