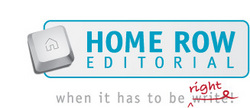 We're excited to have the new site
Centreville, VA (Vocus) June 21, 2010
Home Row Editorial, a Northern Virginia-based content creation and branding firm has just launched its redesigned website, http://www.homerowed.com. The new site features a writing blog and the Just Right Experts Resource Center.
"We're excited to have the new site," says Sharon Ritchey, Home Row Editorial founder and creative director. "The web is the number one place people go for information and advice. The new site now features a new blog, Talkin' Qwerty where the Home Row team can talk about writing, editing, and content with other writers and business professionals."
In addition to the blog, Home Row Editorial has launched the Just Right Experts Resource Center. "Our idea for the resource center is to succinctly and expertly answer a variety of writing, editing, and related marketing questions without a lot of filler and pages of long-winded stories. The books are written by Home Row and respected industry experts. In the time it takes to fly from Washington, D.C. to Boston you'll have an expert answer to a single writing, editing, or marketing problem."
The Just Right Experts first book is a free title called, Did You Say That? Avoiding Plagiarism in Professional Communications.
"Plagiarism is a serious problem these days," says Ritchey. "There is an amazing amount of content available on the web and through traditional print resources. Plagiarism is recognized but no one acts to prevent it until there is either an honor code violation in a university or a law suit in the business community. Plagiarism happens by accident and through lack of knowledge that taking another person's ideas is wrong. We've made this title free because we want to help solve this growing problem."
The new Home Row Editorial site is designed to answer questions about the company and provide a forum for the professional writing community that surrounds Home Row Editorial.
"We invite everyone to visit our blog and become involved in the conversation and to visit the Just Right Experts Resource Center and learn how to improve your business communications one answer at a time.
For more information visit http://www.homerowed.com.
# # #