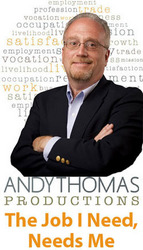 The Job I Need, Needs Me
Columbia, SC (PRWEB) June 21, 2010
Today, Summerville, SC-based Andy Thomas Productions and Columbia-based Kenneth Shuler School of Cosmetology announced that they will join forces on June 26 at the Columbia Mariott for the COLUMBIA Extreme Job Makeover. The event will be held from 2 PM to 4:30 PM, in which Andy Thomas provides his free seminar "The Job I Need, Needs Me," to help unemployed and underemployed people develop personalized marketing strategies. The first 60 participants who are currently unemployed are eligible for a complimentary haircut by Kenneth Shuler's staff.
The seminars are based on a system developed for Goodwill Industries by Andy Thomas, an author and career counselor. Kenneth Shuler School of Cosmetology will offer free makeover tips and advice on crafting a professional image. In addition, there will be a drawing for free comprehensive career counseling services from Thomas, which encompasses the prospective candidate's job searching process. Nothing is sold at ATP seminars, which are supported by non-profit organizations, corporate sponsors, and community-service groups in each city. His mission to be a motivational coach for the unemployed in America is taking the country by storm.
Thomas is a former WVOC 560 AM talk show host. He hosted a syndicated program from Columbia, The Andy Thomas Show, which aired on 10 stations.
"Like most areas, the Midlands have been hard hit by the recession, and there's a huge college graduate population looking for entry level jobs," says Thomas. "This is a unique system, in that our seminars offer a free, no obligation system called The Job I Need, Needs Me: 60 Minutes to Better Career that will empower currently unemployed and underemployed people to find a good job. Add Kenneth Shuler to the mix, and a participant in the seminar can potentially begin a path towards a full career makeover."
Thomas is coming off a successful series of seminars in the Raleigh, Atlanta and Charleston metro areas, as well as a college tour in southern Georgia. He has been featured on CBS Atlanta television, as well as network affiliates in Charleston, over the past four months. Most recently the launch of a powerful Youtube Channel has come to surface to encourage the unemployed in America.
"The lessons learned from these seminars can position a candidate for employment from the hundreds of people applying for work – essentially, it's a practical system of guidelines to creating a personalized marketing strategy that sells your skills to a prospective employer," says Thomas.
To date, 15 seminars have been held in seven cities. People from all walks of life have benefited from the Andy Thomas system, running the spectrum from recent high school graduates to corporate executives. Thomas added that job hunters are both the salesperson and the product.
In crafting a personal marketing strategy to a potential employer, the Andy Thomas Productions system offers six basic rules to follow – Believe in Yourself, Find Your Passions, Remain Productive, Always Be Ready, You Must Cold Call and Ask for the Deal which empowers participants to successfully use these guidelines and techniques.
The collaboration the Kenneth Shuler School of Cosmetology is a boost for the unemployed because it helps with crafting a professional image, according to Thomas. "This is a great plus, unique for seminar participants in the Columbia market," he concludes.
###