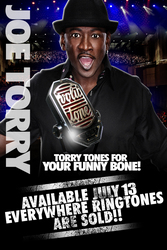 This is personal for me
Atlanta, GA (PRWEB) June 22, 2010
Superstar, rebel, icon, revolutionary, hero and villain – for over a decade, Joe Torry has been both a phenomenon and an enigma. But, now more than ever, the eyes of the world are on him and with the release of "Torry Tones for Your Funny Bone", he is regaining his rightful throne as the original King of Comedy. The award winning actor and comedian will release his highly-anticipated voice-tones and ringtones (Krazy Swag/Bungalo/Universal) on July 13, 2010.
Mr. Torry's first release will be distributed world-wide by Krazy Swag Entertainment in partnership with Universal Music Group Distribution and will feature newly minted comedic medicine as well as classic examples of Mr. Torry's comedic styling.
"This is personal for me" says Joe Torry. "I am remixing my brand by embracing new media and finding new and exciting ways to entertain my fans" says Joe Torry. "I am truly excited that I have teamed up with Krazy Swag Entertainment and their global distribution network for my first release, and I am confident that my fans will be just as excited about this new offering!!" says Joe Torry.
For additional information on the news that is the subject of this release (or for a sample, copy or demo), contact Krazy Swag Entertainment or visit http://www.krazyswagentertainment.com.
About Krazy Swag Entertainment Group, LLC:
Krazy Swag Entertainment Group, LLC is a multi-media entertainment consulting company that helps artists of all kinds mold their talent into a brand that commands substantial market value. Krazy Swag assists artists with corporate sponsorships and endorsements, sales and marketing, production and distribution and, merchandising, clothing and apparel. In short, Krazy Swag helps artists develop market and distribute their work product and increase the market value of their brand
Contact:
Krazy Swag Entertainment Group, LLC
800.278.3765 x-709
contact(at)krazyswagent(dot)com
http://www.krazyswagentertainment.com
###