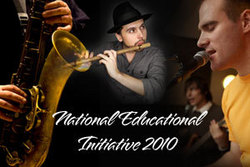 We have stressed that NAMVE would be a voice for performers and entertainers, so developing our educational programs and listening to individuals such as these, makes sense. With NAMVE membership being available to everyone in July, the timing is perfect
Upper Malboro, MD (PRWEB) June 21, 2010
NAMVE announces a bold new step in continuing their effort to provide value and substance to its member-driven association. The mission of empowering and equipping members for success will be evident as the National Educational Initiative (NEI) takes place August 9-12, 2010.
On June 1, 2010, NAMVE announced that twenty-five individuals would be chosen as participants for this all-expenses-paid event.
With development of the NAMVE Educational Network as its key objective, participants will be grouped with professional curriculum designers to generate ideas, standards, and goals for NAMVE's overall program.
NAMVE President, Bill Fitch, explains the National Educational Initiative this way, "From day one we have stressed that NAMVE would be a voice for performers and entertainers, so developing our educational programs and listening to individuals such as these, makes sense. With NAMVE membership being available to everyone in July, the timing is perfect."
Within the grand surroundings of Placid Harbor, MD, the IAM Training Facility and its staff will provide NEI participants with the pleasures of great dining and first class service. Also noteworthy, are the plentiful networking opportunities available to all participants.
Registration has begun for this event and will continue through July 1. Candidates must go to http://www.namve.com to register. Those who are selected will be notified by July 6, 2010.
NEI Director of Development, Charlie Micallef sums it up by saying, "We are excited about the opportunity to form a focus group such as this. It's great for NAMVE, its members and the participants."
Full details about the National Educational Initiative and the National Association of Musicians, Vocalists and Entertainers can be found at http://www.namve.com or call 1-877-97-NAMVE (62683).
# # #