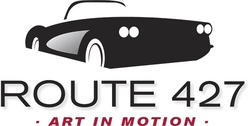 For those passionate about the art of automobiles and the period of the sixties, the John Schinella portfolio of design art offers a unique opportunity. We are excited to share John Schinella's design art with collectors and enthusiasts
Detroit/Nashville (PRWEB) June 22, 2010
Classic Collector Designs presents images of historic and aesthetic value as officially licensed products from GM's archive. Seven designs make up the Schinella Collection, many of which include stylish people. Schinella's design proposal for the XP-830 depicts an interesting woman seated at an outdoor cafe with a guest, as the Mako Shark II slowly passes by. The Mako Shark II design later formed the substantial elements of the 1968 Corvette®.
In the 1964 design proposal to replace the Stingray, John Schinella pays tribute to Semon E. "Bunkie" Knudsen, Chevrolet Motor Division general manager, by placing the words Team Knudsen on the driver's door. This rendering conveys a very strong sense of speed and motion and was developed in Chevy Studio #2.
"For those passionate about the art of automobiles and the period of the sixties, the John Schinella portfolio of design art offers a unique opportunity. We are excited to share John Schinella's design art with collectors and enthusiasts." said Scott D. Edwards, President, Classic Collector Designs.
Classic Collector Designs specializes in fine art derived from original, design development works. These treasures allow enthusiasts insight and emotional connection to their object of passion's origin and evolution. Select limited editions will be presented to collectors for purchase through the ecommerce site Route427.com and through distribution partners such as the National Corvette Museum. Visit http://www.Route427.com for more information and to subscribe to GM licensed art specific news regarding product releases. Trademark notice: General Motors Trademarks used under license to Lellyett & Rogers Services, Co
###