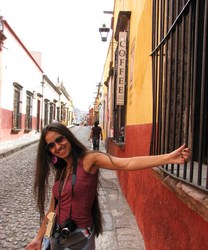 Austin, TX (PRWEB) June 22, 2010
The radio show hosted by Megan Schiebe at http://www.blogtalkradio.com/megan-schiebe articulates an array of international volunteer opportunities available for global volunteers by inviting representatives from global Non-Governmental Organizations (NGO's) to discuss their upcoming volunteer needs on radio such as re-building houses after the recent storms in Guatemala, volunteering building wells in rural areas of Uganda or possibly working with entrepreneurial programs with young business leaders in Kenya. The content is dynamic, charismatic and provides great insights as to how global communities can utilize their existing skill sets in actualizing practical projects enhancing the livelihoods of people within developing regions.
The collaboration with Do512 http://www.do512.com paves the way for innovative Austin fundraisers to submit their upcoming not-for-profit event ideas for judging. The most innovative fundraising idea will be featured on Do512. Do512's influential website not only provides an extensive list of social events happening in the Austin area, but also invites users of the site to vote for the most popular events happening that week, the most popular Happy Hours to catch a Mojito with your best buds at, and the most popular venues to watch the next soccer game at.
Fly for Good http://www.flyforgood.com, through their endorsement of the International Volunteer Card, delivers an incredible program for international volunteers to receive 1000's of discounts such as flight discounts for international volunteer trips and 24/7 assistance worldwide. Listeners of the show are currently invited to become more engaged with the show interviews and have the opportunity of winning one of these International Volunteer cards.
The radio show, through these collaborative approaches, hopes to engage more listeners globally through their awareness campaign of international volunteering as well as the benefits associated with volunteering. For more information, please contact Megan Schiebe at meganschiebe(at)travelvolunteersearch.com.
###