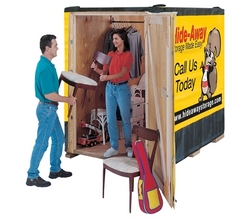 We truly believe that mobile storage is the easiest and most convenient way for people to clear out unneeded items so their home sells faster and for more money
Sarasota, FL (PRWEB) June 23, 2010
Hide-Away Storage is offering free mobile storage to help home owners in Bradenton, Sarasota and Ft. Myers "de-clutter" their homes so they will look larger and more appealing to buyers, according to the firm's managing partner.
"We know that it's a tough time to be selling, and we also know that 'de-cluttering' is the easiest way to make your home look more attractive to buyers," said Steve Wilson, managing partner for Hide-Away Storage based in Sarasota. "We truly believe that mobile storage is the easiest and most convenient way for people to clear out unneeded items so their home sells faster and for more money."
"The unfortunate thing is that many people do not know about mobile storage and how easy it is to use this service to help sell their home," Wilson added. "We hope Hide-Away's offer of free mobile storage will allow customers to de-clutter their homes for free and also educate the public about the convenience of mobile storage."
Hide-Away Storage's offer is to home sellers in Manatee, Sarasota, and Lee counties. They can have two free mobile storage containers for up to three months while they try to sell their home. They must bring their Realtor's listing agreement to the nearest Hide-Away Storage location to reserve the free containers. Click here for Hide-Away's locations.
Hide-Away will deliver the containers to the customer's house where they can be filled with overflow household items. Each container holds about a room and a half of furniture. Click here for more information about what fits inside Hide-Away's portable storage containers. The containers are then stored in Hide-Away's air-conditioned mobile storage facilities in Sarasota or Fort Myers. The only charge during the first three months of storage is a one-time $69 delivery fee.
A customer may keep the containers in storage for longer than three months and pay the normal rent after 90 days. They will be redelivered for free upon request to the same location, if the home has not sold, or they can be redelivered to their new home, provided it is in Manatee, Sarasota, or Lee counties.
Due to the increased transportation expense to Pinellas and Collier counties from Hide-Away's mobile storage facilities, the "de-cluttering" offer is not available in St. Petersburg and Naples, where Hide-Away also operates its normal mobile storage service, Wilson said.
About Hide-Away Storage
Hide-Away Storage operates 10 traditional self-storage facilities and two Mobile Storage warehouses on the Southwest coast of Florida. The self storage facilities are located in St. Petersburg, Ellenton, Bradenton, Sarasota, Ft. Myers, and Naples, Florida. Hide-Away delivers portable storage units in Pinellas, Manatee, Sarasota, Lee and Collier Counties. The company also provides full-service moving of household goods. Hide-Away has approximately one million square feet of storage space, and is headquartered in Sarasota, Florida. The company was started in 1977 in Bradenton by Steve Wilson, who remains the managing partner.
For more information on Hide-Away's storage services and pricing, visit: http://www.hideawaystorage.com
Contact: Hide-Away Storage
Meisha Wilson
Hide-Away Storage Services
941-755-1166 ext. 1004
###