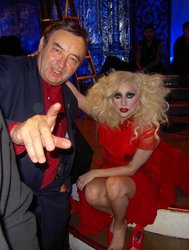 The floating displays of sculpture of Angel Orensanz capture in a metaphorical way the gaps and rhythms of the human apotheosis
New York, NY (PRWEB) June 23, 2010
The recently opened exhibition this past Tuesday "The Floating Sistine Chapel of Angel Orensanz" is receiving a vast attention of relevant segments of the population. The exhibition is a mesmerizing juxtaposition of a world piece of architecture such as the building itself that houses the Angel Orensanz Foundation with a daring sculpture body of work. The building on Norfolk Street is a perfect architectural replica of the Sistine Chapel in Rome, and the floating displays of sculpture of Angel Orensanz capture in a metaphorical way the gaps and rhythms of the human apotheosis of the masters of the Renaissance.
From its opening last Tuesday the exhibition "The Floating Sistine Chapel" is being visited by a growing number of people vividly interested in this last work of Orensanz. The show consists of six large luminous cases that document the process of the sculptural constructions that fill the nave of the Foundation.
A significant factor in the splendor of this exhibition has been the inaugural celebration of Icons by the Lucie Foundation of Los Angeles, where two masters of contemporary photography, Markus Klinkus and Indrani celebrate the popular culture of today. The celebration was presided by Lady Gaga, a bigger than life presence on the stage of the Orensanz Foundation.
Goethe, Karl. F. Schinkel and Alexander Saeltzer (the architect of the building in 1849) made the Sistine Chapel the center of the European attention at that time. Now, sculptor Orensanz returns the concept of the Sistine Chapel to the splendors of the festivities of our time. The icons of current world are the ones that fill the Renaissance moment of Manhattan.
###