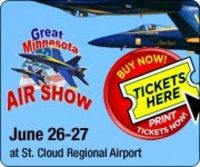 "We are extremely lucky the Navy picked St. Cloud for their 2010 schedule. There are over 300 air shows in America each year and the Blue Angels only fly in three dozen shows."
St. Cloud, MN (PRWEB) June 21, 2010
The United States Navy's "Navy Flight Demonstration Squadron," known as The Blue Angels, will perform June 26-27, 2010 in St. Cloud, Minnesota. The Blue Angels' appearance at the St. Cloud Regional Airport (STC) will be the centerpiece of the inaugural "Great Minnesota Air Show." The air show will also feature regional and national aviation performers as well as exhibits and vendors on the airport grounds. Some of the nation's best air show performers are from Minnesota and have committed to appear in St. Cloud.
The show is spearheaded by media company Townsquare Media of St. Cloud (formerly Regent Broadcasting), the St. Cloud Regional Airport and the Boys & Girls Clubs of Central Minnesota. Townsquare Media Special Events Director Chris Chapman and St. Cloud Regional Airport Director Bill Towle are leading the planning efforts for the event.
"The Great Minnesota Air Show" is expected to attract tens of thousands of people from across the Upper Midwest to the St. Cloud Regional Airport during its two-day run.
The U.S. Air Force has agreed to bring its F-22A Demonstration Team to the Great Minnesota Air Show. The demonstration model of the Raptor stealth fighter will perform both days. The Air Combat Command F-22A Demonstration Team performs precision aerial maneuvers to demonstrate the unique capabilities of the world's only operational fifth-generation fighter aircraft. The F-22A will be piloted by USAF Major Dave "Zeke" Skalicky, a native of Hopkins, Minnesota.
Also appearing will be: Team Aeroshell, Franklin's Flying Circus, Minnesota flying legend John Mohr, Mike Wiskus and his Lucas Oil plane, Team Chaos and warbirds like the B-25 and the P-51. The show will also feature many static displays from NASA to military aircraft such as the MV-22B Osprey tiltrotor helicopter. A kids play area is also planned.
Tickets, VIP Parking, maps and more information on the event are available at: GreatMinnesotaAirShow.com.
###