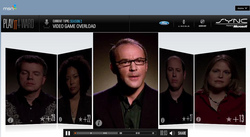 Play It 4-Ward and its approach to examining the impact of technology in our daily lives perfectly reflects the value and philosophy behind SYNC®
New York, NY (PRWEB) June 22, 2010
What happens when Facebook's chief privacy officer takes on the polarizing author of How the Internet is Killing our Culture in a discussion over online privacy? Following the success of its inaugural cycle, Ford Motor Company announced today it has again collaborated with Microsoft's Branded Entertainment and Experiences Team (BEET), integrated marketing firm Team Detroit and production studio Generate to produce a second season of Play It 4-Ward(http://www.playit4ward.msn.com) its digital video re-invention of the television roundtable, featuring a collective of dynamic personalities and thought leaders from the worlds of business, design, entertainment, science and media engaged in meaningful conversations about the changing role of technology in our lives and society. The second cycle of Play It 4-Ward premiered June 14th on MSN.
Conceived as a branded entertainment experience to drive awareness for the automaker's award-winning SYNC® , in-vehicle technology, Play It 4-Ward features moderator Paul Hochman, gear and technology editor for NBC's Today Show posing a series of thought-provoking questions about the societal impact of everyday technologies to a diverse group of renowned experts who appear concurrently on screen, including former Facebook privacy officer Chris Kelly, Larry Hryb, director of Microsoft's Xbox Live gaming network, former senior Sony Pictures Entertainment executive Yair Landau and Sarah Lane, host of G4's Attack of the Show!, among others. Viewers are further encouraged to participate in a broader discussion, engaging one another by posting comments and videos within the Play It 4-Ward community.
"We received such a positive response to the first cycle of Play It 4-Ward that we are thrilled to be presenting a second season," said Alex Hultgren, Ford's Digital Media Manager. "Play It 4-Ward and its approach to examining the impact of technology in our daily lives perfectly reflects the value and philosophy behind SYNC®, which is itself an innovative technology that has changed the way our customers communicate from within their Ford vehicles."
Also Joining the Conversation This Season:
Andrew Keen – Author, The Cult of the Amateur: How the Internet is Killing Our Culture
Branko Lukic - Creator of the NONOBJECT design philosophy and Design Fiction
Cory Barlog – Videogame developer, head of God of War franchise
Dale Herigstad – Futurist, designer
Dr. Cheryl K. Olson – Behavioral psychologist, author
Dr. Joanne Pransky - World's first Robotic Psychiatrist
Dr. Rachel Armstrong –Science fiction writer, Bartlett School of Architecture
Eric Cahill – Head of Progressive Insurance XPRIZE
Greg Grunberg – Actor: Heroes, Felicity, Alias
Jack Lerner - Director of the USC Intellectual Property and Technology Law Clinic
Laura Swisher – Host, stand-up comedian
Peter Eliasberg –Attorney, ACLU
Sandy Climan - CEO of 3ality Digital, a leading developer of digital 3D technology
Sheila E. – Musician, Writer, Producer
Thomas Dolby – Musician, producer, technologist
About Ford Motor Company
Ford Motor Company, a global automotive industry leader based in Dearborn, Mich., manufactures or distributes automobiles across six continents. With about 176,000 employees and about 80 plants worldwide, the company's automotive brands include Ford, Lincoln and Mercury, production of which has been announced by the company to be ending in the fourth quarter of 2010, and, until its sale, Volvo. The company provides financial services through Ford Motor Credit Company. For more information regarding Ford's products, please visit http://www.ford.com.
# # #