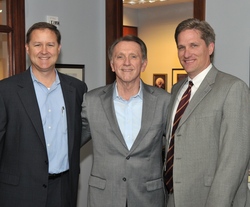 I am very proud to make this announcement
Richardson, TX (PRWEB) June 23, 2010
The Board of Directors of National Write Your Congressman, at their second quarter Board Meeting, announced that Chris Adamson was elected as NWYC's new CEO replacing his father Roger Adamson, who will continue to serve as Chairman of the Board. Randy Ford was promoted to the position of President in addition to continuing to serve as the company's Chief Operating Officer.
"I am very proud to make this announcement," said Chairman of the Board Roger Adamson. " It is something we have prepared for and talked about for the last two years. It is something I have dreamed about since Chris first started working with my Dad and me in the family business in 1983. The timing is right. I'm ready for my new role. Chris and Randy are ready for the challenges ahead. We are proud of the past but most importantly, we are positioned for the future."
Chris is the third generation Adamson to lead the 52-year-old company. In 1958, David Adamson followed what he believed to be an inspired revelation to start National Write Your Congressman. He often said "there was a need for it."
NWYC provides a non-partisan education and action response system to professionals and business owners in all fifty states. The mission of the company is to encourage responsible Americans to use their influence in government to preserve the freedoms set forth by our Founding Fathers.
"I remember growing up in North Texas; sitting at the dinner table and hearing the stories, the passion, the dedication my Dad and my Grandpa had for the company," said Chris Adamson. "It's a tremendous privilege and honor for me to now accept the reins and guide their vision into the future."
Randy Ford, who joined NWYC in 1990, is uniquely qualified to serve as President and COO. "Randy is a true professional and a project-oriented leader," said Roger. "Whenever there is a big job to be done, Randy steps up to make it happen. Our growth, our move to our beautiful new offices in Richardson, TX, our 50th Anniversary celebration and now our IT and website upgrade have all been guided by Randy."
"These are challenging times for our country and for our company," said Randy. "For fifty-two years we have been encouraging responsible Americans to get involved…to communicate with Congress…to make a difference. Now, more than ever, our country needs us. We need to raise the bar even higher. We need to get more responsible Americans involved. We've come a long way from the penny postcard to the Internet. But we still have a long way to go. I eagerly embrace that challenge."
About NWYC: National Write Your Congressman is neither a lobby nor a special interest group. They are non-partisan. For over 52 years they've had one mission and that is to encourage Responsible Americans to quickly and effectively influence their elected officials. For more information, visit http://www.nwyc.com
###