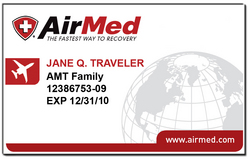 "A pre-paid air ambulance membership card is the most important item to take with you when you travel."
Birmingham, AL (PRWEB) June 27, 2010
Once again, the summer travel season is upon us, and AirMed International, the nation's leading air ambulance, outlines the top reasons you and your entire family should remember to read the fine print with most travel insurance plans, opting instead for coverage with an AirMed evacuation and repatriation membership.
Top Reasons to Purchase an AirMed Traveler Air Ambulance Membership
1. You are traveling. If you think an accident won't happen to you while you're on vacation, think again. Last year AirMed transported over 2,000 travelers with an average age of 44 years old. Do not chance the financial strain that will follow if you are hospitalized away from home.
2. Guess Who Isn't Covered? You. Your regular health insurance almost certainly doesn't have air medical benefits. Most travel insurance will only get you to the nearest facility, not home where you want to be.
3. No pre-existing condition clauses. No co-pays. No deductibles. As long as you're 150 miles or more from home, an AirMed air ambulance membership has you covered. Travel insurance simply won't transport you domestically.
4. Details, Details, Details. AirMed will take care of all details for you—bedside to bedside and on a 24/7 basis. Could you or your travel companion do all this in a country where you don't speak the language?
5. It's very affordable. AirMed memberships start at just $115 for a two-week trip. Compare that with a medical transport flight that can cost in excess of $100,000. AirMed offers student memberships, short-term memberships, and the most popular of all—the annual membership.
"A pre-paid air ambulance membership card is the most important item to take with you on your trip," says AirMed CEO Jeff Tolbert. "We've seen it happen countless times-- travelers get ill or injured while away from home and end up paying tens of thousands of dollars for a medical flight home. If you are an AirMed member, the cost is zero. So, whether you have an AirMed Traveler card in your wallet or another service, we urge you to be prepared this summer."
About the Air Ambulance Company: AirMed International
AirMed International is the country's leading air ambulance service, offering unparalleled medical care and bedside-to-bedside transportation on a worldwide basis. With state-of-the-art medical jets, AirMed is equipped to pick you up from any hospital around the globe and transport you to the hospital of your choice. Along the way, the most experienced and respected medical teams in the air will treat you or the ones you love. AirMed is also on call for you, 24/7, with answers to even the simplest medical questions.
And an AirMed membership doesn't cost an arm and a leg. In fact, it could save you one. AirMed Traveler memberships start for as little as $115 and could very well be the 'best kept secret' in the travel industry. For more information about AirMed's air ambulance services, http://www.airmed.com.
###