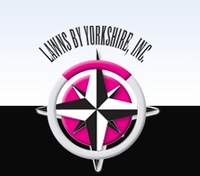 Westwood, New Jersey (Vocus) June 22, 2010
Westwood based award-winning Lawns by Yorkshire (http://www.lawnsbyyorkshire.com) Chief Executive Officer Steven Jomides has signed a multi-year integrated marketing sponsorship and business development deal with Live Nation Entertainment (NYSE-LYV) that will help promote and grow the full-service landscape company. Live Nation is the largest entertainment company in the world, consisting of five businesses: concert promotion and venue operations, sponsorships, ticketing solutions, e-commerce and artist management. Live Nation seeks to innovate and enhance the live entertainment experience for artists and fans before, during and after the show.
Since 1988 Lawns by Yorkshire has provided Green and sustainable landscape and snow services throughout New Jersey and New York. Lawns By Yorkshire serves multiple markets including multi-family, HOA's, office parks, retail and shopping centers, school and corporate campuses, municipalities, industrial and sporting complexes. The company has been recognized as one of the nation's leaders in snow removal services serving some of the most complex facilities in the Northeast.
Jomides and Judith Guido, of Guido and Associates, worked with the Live Nation Entertainment organization and created a multi-media portfolio to promote Lawns By Yorkshire during the PNC Bank Arts Center summer concert series in New Jersey. As part of the deal, Lawns by Yorkshire will receive significant outdoor concert signage, advertisement space on livenation.com and the exclusive PNC Bank Arts Center concert book, a video commercial and feature during each concert, web banners as well as the opportunity to provide give-aways to preferred season concert ticket holders and fans. Live Nation Entertainment and the PNC Bank Arts Center will also be promoting and presenting GREEN and sustainable practices and artists during the summer concert series. "Aligning the Lawns By Yorkshire brand with an innovative Global leader in the arts and entertainment world like Live Nation Entertainment brings tremendous value and credibility to our company. The opportunities that this relationship affords all of our stakeholders are tremendous," said Steven Jomides.
About Lawns by Yorkshire:
Founded in 1988, Lawns by Yorkshire, headquartered in Westwood New Jersey is an award winning landscape and snow removal leader dedicated to serving the needs of general contractors, developers, property and facility managers, owners, architects, landscape architects, engineers, athletic directors, and municipal authorities in multiple industry segments by providing a seamless service portfolio of economical, sustainable and comprehensive landscape solutions. As a recognized industry leader, Lawns by Yorkshire provides state-of-the art equipment and a credentialed team of landscape professionals who focus on best management practices, customer experience and return on investment. The company provides a portfolio of professional services including landscape maintenance, landscape installation, water management, irrigation, tree-care and snow services to the multi-family, retail, corporate, industrial, school and corporate campuses, hotel and hospitality, senior living and commercial markets in New Jersey and New York. With its roots sown deeply into the community, Lawns by Yorkshire has a corporate stewardship and scholarship program that donates a portion of its earnings back to helping the communities it serves. Visit http://www.lawnsbyyorkshire.com for more information.
Press contact:
Judith M. Guido
(818) 800-0135
jguido(at)sbcglobal(dot)net
# # #