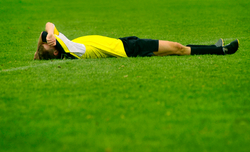 I think somebody cursed me:Rio Ferdinand
(PRWeb UK) June 22, 2010
Who could forget Rob Green's unlucky, and costly, blunder in the England's World Cup Opener? Or Rio Ferdinands unlucky injury during training, which led him to declare in the press 'I'm cursed'?
Seemingly uncontrollable events such as these can leave fans feeling helpless and frustrated, but website http://www.dabdoog.com is hoping to put an end to England's recent run of rotten luck.
Based on the theory that fans can pass on their own good luck to the team, the Dabdoog (Goodbad when read backwards) service allows users to focus their positive wishes of good luck by texting SOCCER GL followed by the name of their team to 60777.
For example, an England fan might text SOCCER GL ENGLAND, or SOCCER BL to send bad luck to the opposing team.
The message costs 50p plus standard network charges. The dabdoog service also has a facility to calculate your luck power on its website. After the match it will give you an index to show how much your luck was responsible for the match result.
Fans can also sign up on the website, which has details of every World Cup match, how much good (and bad) luck each team is receiving.
To find out more, fans can check out http://www.dabdoog.com or simply send their good wishes before matches or on the day of a match.
###