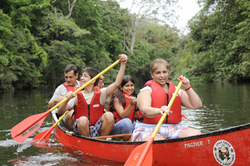 It's great when the feedback confirms that you're doing something right, and we'll continue to develop packages that people really respond to and are satisfied with
Cayo District, Belize (Vocus) June 22, 2010
An informal guest survey conducted by staff at The Lodge at Chaa Creek has revealed the top ten reasons why people prefer a family vacation in Belize.
1. It is beautiful.
Guests most often mentioned the reef, cayes and sea coast as well as pristine rainforests, the numerous Maya ruins, unpolluted rivers, the misty Maya Mountains and verdant farmlands as the attractions they were most drawn to.
2. It is affordable
Compared to other Caribbean vacation destinations, Belize represents value for money. While it is possible to spend a lot of money, it is possible to enjoy Belize's many attractions relatively inexpensively.
3. There is plenty to do for the entire family
Guests surveyed often remarked on the number of healthy, educational and enjoyable activities Belize offers.
4. It is an educational experience
The Lodge at Chaa Creek, for example, offers a natural history museum, medicinal plant trail, butterfly farm, a working Maya organic farm, guided nature trail and river tours, birding tours, horseback riding and a host of educational activities the whole family can participate in.
5. English and Spanish are spoken
People often rank the fact that English and Spanish are widely spoken, and that ease of communication is a factor in enjoying their holiday.
5. The climate
The fact that Belize is blessed with one of the best climates in the world is a major selling point. With year round warmth and sea breezes and large tracts of forest providing a cooling effect, guests find the climate to be one of the best parts of their visit.
6. It is easy to work out the money
Another often quoted Belizean bonus is the ease of converting money. With US dollars accepted everywhere, and the Belize dollar pegged to the US at two to one, converting prices is easy and takes the confusion out of purchases.
7. Belize is full of Belizeans – Judged as the warmest and friendliest people around
The people of Belize are famous for being warm, friendly and peace loving. Visitors said they enjoy the multicultural mix of Creole, Mestizo, Maya, Garifuna, Asians, Mid-eastern, Indian and Pakistani cultures and report that, since most locals speak English, it is easy to meet and become friends with people.
8. Surf and Turf
It's is often said that, where else can you wake up in dense tropical rainforest and be swimming out in the Caribbean Sea that afternoon? One guest remarked that going from a Caribbean Island feel to exploring Maya ruins in dense rainforest can make it feel like you're enjoying two holidays at once.
9. The most accessible Maya archaeological sites in the world
Most visitors are amazed by how many accessible, intimate Maya ruins and sites there are in Belize. From fascinating, easy walks through park-like Xunanthunich, or the expanse of Caracol, and onto more ambitious trips such as Actun Tunichil Muknal, the cave of the Crystal Maiden, Belize is a dream location for those interested in the Maya, and a fascinating eye opener to the novice.
10. Easy to get to and from
With direct flights to and from the US and Canada, easy connections and swift ground transfers, getting to and from this paradise is hassle free, leaving more time to enjoy and less stuck in transit.
Visitors also remarked that family vacation packages make it all even easier and provide good value. In response to this, The Lodge at Chaa Creek's is offering new Affordable Family Vacation Packages and Surf and Turf deals that are perfectly designed to accommodate a range of ages and interests.
According to Chaa Creek's owner and GM Lucy Fleming, "While the informal guest survey didn't reveal any major surprises, it is heartening to see that Chaa Creek continues to offer travellers what they want, and that their experience here exceeds their expectations.
"It's great when the feedback confirms that you're doing something right, and we'll continue to develop packages that people really respond to and are satisfied with," she said.
For more information about The Lodge at Chaa Creek, toll free USA 877-709-8708, UK 0-207-096-0329, Belize 501-824-2037 reservations[ at]chaacreek.com or visit the web site at http://www.chaacreek.com.
###