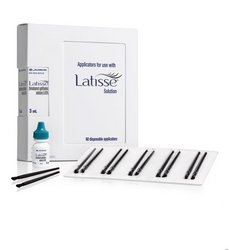 Glendale, CA (Vocus) June 22, 2010
New Online provider of LATISSE®; for longer, thicker, fuller eyelashes.
Los Angeles, CA. Monday, June 21, 2010. EyelashGrowthStore.com is the newest authorized retailer for fulfillment of the prescription eyelash growth medication Latisse®. Latisse® is the first FDA approved product to stimulate eyelash growth for people who do not have lashes or who want them to be fuller, thicker, and longer.
The EyelashGrowthStore.com website includes an online prescription form specifically formatted to accept, approve and & maintain new patients or re-fills for prescription usage of Latisse®. This user–friendly site will allow customers to easily submit their prescription request, place their order, and then track shipment.
EyelashGrowthStore.com staffs physicians dedicated to assisting customers in the approval of their prescription. All Latisse® approved candidate's prescriptions are reviewed, approved and shipped the same day. With EyelashGrowthStore.com there is never a backorder as Latisse® is always in stock.
EyelashGrowthStore.com offers a low price guarantee for Latisse®, as well as bulk volume discounts. With exceptionally low prices and outstanding customer service, Eyelash.com will deliver longer, fuller lashes to their customers door step. Visit Eyelash.com for more information.
LATISSE® solution is a prescription treatment for hypotrichosis used to grow eyelashes, making them longer, thicker and darker. Eyelash hypotrichosis is another name for having inadequate or not enough eyelashes.
###