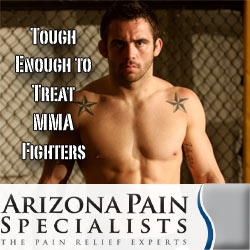 the only medical facility tough enough to treat MMA fighters.
Scottsdale, AZ (Vocus) June 22, 2010
When it comes to athletes performing their sport through pain, former world-champion cagefighter Jamie Varner is at the top of the list.
Varner had been treated at Arizona Pain Specialists for a previous fight, but it was his fight against wrestling phenom, Kamal Shalorus, Sunday, June 20th that had been his sole focus.
Suffering from pain due to past injuries, Varner sought the experts at Arizona Pain Specialists to help him prepare for Sunday's fight – which may have world-title rematch ramifications. For an MMA fighter, pain is a constant part of the sport and is expected. But coming into a fight battling constant chronic pain is not an option.
Varner credits Arizona Pain Specialists as "the only medical facility tough enough to treat MMA fighters." By treating Varner with an individualized treatment plan including minimally invasive procedures and chiropractic care, Varner was able to show up for Sunday's fight in top condition.
Varner turned out fight-ready Sunday night and displayed dizzying hand and foot speed, but came away without a victory due to controversial scoring that ended in a split draw. After three brutal rounds which included multiple illegal groin kicks by Shalorus, most who watched believe Varner had dominated the fight. According to a fan poll on MMAMania.com, 59% believe the judges to be in error and feel that a decision should have been made in Varner's favor. During the fight, Varner sustained several injuries including a broken hand and foot.
While Sunday's fight came to a disappointing conclusion for Varner amid a disbelieving crowd, the fighter stays tough. An official announcement has not yet been made, but a rematch with Shalorus is likely. The physicians at Arizona Pain Specialists will continue to treat Varner in preparation for his upcoming fights, and will help him face Shalorus or any other competitor pain free.
The world-class comprehensive pain practice Arizona Pain Specialists was founded by Drs. Paul Lynch and Tory McJunkin. The clinics utilize cutting-edge interventional pain treatments, chiropractic care, spinal decompression, acupuncture, biofeedback, relaxation therapy, on-site physio-rehab, an open MRI, procedure center and research department. The clinic's website, http://www.ArizonaPain.com hosts an online textbook resource and receives more than 55,000 views a month.
###