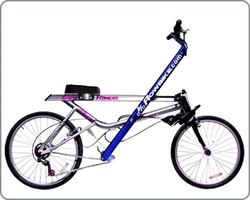 Rowbike is a phenomenal invention and is leading a whole new class of total body outdoor fitness machines.
Agoura Hills, CA (PRWEB) June 23, 2010
Scott Olson, based in Minnesota and founder and inventor of Rollerblades and Rowbike has sold Rowbike to Durango Fitness, LLC. Durango Fitness is located in Agoura Hills, just outside of Los Angeles, CA. Scott Olson said: "This new arrangement is consistent with my core mission – To get Rowbike out to the masses. It's been my goal to have Rowbike run by a company in the Los Angeles area. With Durango at the helm there's momentum for Rowbike to be used in television and movies. Los Angeles is the perfect location for Rowbike headquarters."
Durango Fitness will maintain a strong commitment to the already strong base of thousands of Rowbike owners worldwide. Durango has produced an Infomercial and will be testing on air this Summer season. In addition, Durango Fitness has partnered with Universal Guardian to offer financing to new customers who wish to pay for their Rowbike over a period of time.
Ron Levy of Durango Fitness said: "We are excited to continue the momentum Scott has created with Rowbike. We plan on building the brand out to an exponential degree. We are also solidifying our alliances within the entertainment industry and are in negotiations with a celebrity spokesperson. We are very excited about the direction we plan on taking Rowbike and look forward to the word 'rowling' to be synonymous with total body outdoor fitness."
As for Olson, he is continuing with his innovative fitness inventions. Olson has launched Kong Pong, an oversized outdoor version of Ping Pong. Kong Pong is already building momentum and is quickly creating its own following.
Olson will continue to be involved with Rowbike lending his expert knowledge of the product to Durango. Levy says: "Rowbike will continue with Scott Olson as the innovator and inventor as part of our marketing platform. Rowbike is a phenomenal invention and is leading a whole new class of total body outdoor fitness machines. Due to Scotty's major successes, keeping Scotty on subtitle is crucial and lends tremendous confidence to the Rowbike brand."
Financial terms to be disclosed later.
About Rowbike
Since 1996 Rowbike has been providing fitness benefits to customers worldwide. The total body rowing motion is infamous for delivering weight loss, muscle building/toning, stretching and improved posture all at the same time. Rowing has been proven to be the most efficient and effective workout an individual can do. Due to its inherent non-impact motion, Rowbike also fits in well with runners and those that love to cross train.
Rowbike provides all of those benefits while providing an exciting outdoor movement workout. Its customer base includes serious athletes, those that have used it for significant weight loss as well as injury rehabilitation.
###