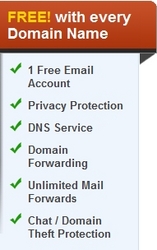 We are testing water with this promotion
Melbourne, FL (PRWEB) June 22, 2010
In an attempt to put some dollars back in the pocket of its customers, Gossimer, one of the most popular domain name registration and web hosting company has decided to do away with the transaction fees it charges on fund added or invoices paid using AlertPay, Liberty Reserve, or webmoney through the end of July.
The company hasn't put any cap on the amount of money a customer can add to his or her Gossimer's account during this promotion. As announced the promotion will end on June 30, 2010, but according to the company sources the promotion may continue even after June provided customers' reaction to it. The decision on this has yet to be taken.
"We are testing water with this promotion," Said Marvin Dreyer, CEO of Gossimer, "And based on the responses we will get, we may continue this 'no-fee policy' even after the month of June. There is no limit on how much money one adds to one's account or how many invoices one will pay. We may incur some expense, but we are committed to provide the best value for our customers. We are encouraging our customers to use these services (AlertPay, Liberty Reserve, and webmoney) to deposit money to their accounts."
Gossimer has recently consolidated its product portfolio to provide unlimited web hosting account at a competitive price to all its customers that will meet customers' present as well as future needs. The web hosting package offered by the company is all-encompassing. It provides unlimited disk space, unlimited bandwidth, unlimited database, and unlimited e-mail accounts, etc. Each plan comes with 30-day money-back guarantee.
Gossimer is known for its customer support and infrastructure. For web hosting, Gossimer usage globally distributed datacenter insures safe, secure, and steady delivery of websites hosted with Gossimer to people around the globe. The company uses RAID hardware to protect data loss due to hard disk failure.
Since the time Gossimer has shifted its base from New Jersey to Melbourne, Florida, it has shifted the gear and put the company on the growth curve. It would be interesting to see how the future unfolds for the company.
About Gossimer, LLC
Gossimer is a full-feature, fastest growing domain name registration and webhosting company. Since 2001, Gossimer is providing web hosting, email hosting, and domain registration services from New Jersey. The company is well known for its exceptionally responsive customer support, knowledgeable technical support, server uptime, and attractive web hosting packages.
For more information, please visit: http://www.gossimer.com
# # #