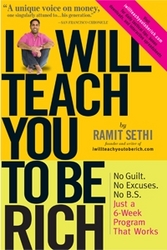 You can't out-frugal your way to rich.
New York, NY (PRWEB) June 22, 2010
Ramit Sethi, the author of The New York Times best-selling book and blog I Will Teach You To Be Rich (http://www.iwillteachyoutoberich.com), shows regular people how to live a rich life by spending extravagantly on the things they love -- and cutting costs mercilessly on the things they don't. According to Ramit, "You can't out-frugal your way to rich." While most personal finance "experts" focus on cutting costs, that's only one part of the puzzle to living a Rich life.
Ramit shares his top 5 reasons why earning more is a much more powerful strategy than simply cutting costs:
1. Most people can't earn more — so if you can, you win.
Because of differences in skill, motivation, and luck, few people ever try to earn more.  Instead, people focus on cutting costs.  But anyone can earn more by turning their skills into side income. Everyone has profitable skills, whether it's being a dog walker, personal chef, artist, web designer, or personal organizer. People will pay for your services to solve their problems -- and you can easily be earning $1,000 or more per month.
2. There's a limit to how much you can save, but no limit to how much you can earn.
For someone with experience in earning more, it's far easier to earn $1,000 than to slash $1,000 from your budget. And more fun.
3. You diversify your risks.
What if you lost your job tomorrow? Would you have another source of income? If not, the odd irony of recessions is that if you lose your job, everyone else is losing their jobs too…so there are few jobs available. You know about diversifying your investments, but you need to diversify your revenue sources too.
4. It gets easier after the first $1K.
Once you earn your first $1,000, it's relatively easy to turn the dial to make $1,500 or $2,000, or even more.
5. Earning more + managing spending = powerful financial combination
Combine earning more with the automation strategy for saving, investing, and spending outlined in his personal finance book, and you have a powerful financial combination.
Ramit cautions that managing spending behavior is also important. If you're earning $150,000/year and spending all of it, this is foolish. In I Will Teach You To Be Rich, Ramit covers automating your finances and creating a Conscious Spending Plan (not a useless budget) in great detail.
He adds, "I want to live a rich life, and that means spending money on the things I love. I want to maintain my basic desires — living in an apartment in New York City, being able to eat out with friends, and traveling around to see my family/friends. If you asked me whether I'd rather cut down on those, or spend time earning money so I could live the lifestyle I wanted, I'd answer earn more 100% of the time." He concludes, "Earning more is one of the Biggest Wins you can have — especially once you can systematize it so you have a steady, increasing side income."
Ramit is regularly featured in The New York Times and The Wall Street Journal. He has been a regular guest on ABC and has appeared on The Today Show and NPR. He graduated from Stanford with undergraduate and graduate degrees, where he studied technology and psychology. He recently moved from San Francisco to New York City.
# # #